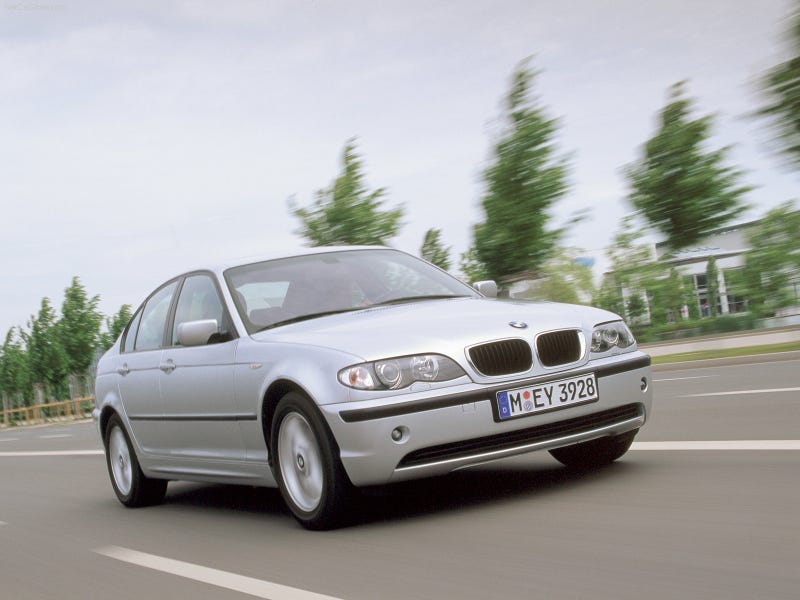 Its a cold winter morning in January, and my cousin is skiing in Norway. He have left his winter beater bimmer in my driveway for me to check it out. I'm terrible tempted to try out the Bavarian handling machine at first hand, and it only take mere seconds until I'm sitting comfortable, but also safely in the German cloth seats. As I'm driving out of the driveway I realize that this is the first time I have ever been behind the wheel in a true BMW, scrapped from bottom to top, nothing works, handbrake is as effective as a chewing gum, the radio is playing alienated static sound, and the heater only have an on or off setting. At first sight this car was completely crap, and with a new driver behind the wheel kind off dangerous too. But I had one job to fulfill, could this handling-god work as an everyday car, and if yes, I had to spread the message to the uninformed.
Faster than light I hit the B-roads, to see if the statements about the handling is just ramble or actual facts. I end up dragging the car along behind a Fiat Panda 1.2 in blue, with a respectable, but old lady behind the wheel. I was forced to overtake in the long run, so I threw it in 3rd from 5th and made the quintessential BMW douche move, and floored it past the Panda. Considering that this 320i only has 150 horsepower it does a great job at using them fully. Finally I'm alone on the B-roads, and my body is ready to take to the max. I pop it back in 3rd, I have a long curvy road in front of me, in the first tight bend I quickly realize that this is in a completely different league than my Merc is, I end up with more confidence than ever, I blasted through the corners, and the car never felt like it was on the edge of losing grip, it was stable, an solid planted to the road, and have in mind that this wasn't the M3 or a high-spec model. BMW you are doing something terribly fantastic. It was time to head towards home, so I turned around at the next crossroad, and lucky as I'm I end up behind an E36 M3 in cream yellow. This was showdown, could the little basic 320i follow through with its experienced granddad? The answer was as surprising to me as it is to you. I could easily follow the M3, he was out on a fun Sunday drive like I was, so floored it in the curvy bends, and only on the straight I wasn't able of keeping up. The M3 driver waited for me on the next petrol station, I needed fuel anyway as I was taking it to the absolutely max between gear changes. He was amazed by how well I kept up with him, and he even thought that is was an M3 in disguise for a brief moment, I then showed him the 320i badge on the back, he was cross-eyed by how well the little bimmer kept up with the real deal.
It was time for something entirely different, I wanted to see how good this car would be to live with, and thought of the idea of writing an oppo review of it. So instead of heading home I drove into the city to buy some furniture, just so see how much it could handle. To top it off I now let my girlfriend at the time drive the way into the city, just to have an idea of how easy it is to drive. The only thing she complained about was the pedals being placed a tat too high for her liking, although she loved how forgiving the clutch was. I told her to to jump in the back, and sit behind me (187cm) in my core driving position. It was all positive. So the 320i is also capable of transporting grownups in comfort even if they have to sit in the back.
I bought an Ikea table, just to see how much space the trunk provided, it is surprisingly small in such a car, and it doesn't open wide enough for my liking. I wasn't disappointed though, some compromises have to be made.
This BMW is something entirely new to me, I have never felt in love that quick. The driving in these cars are nearly sensational, it's something entirely different from so many other "ordinary" cars. These cars, or this car is an achievement, a handling achievement, it's the best all-around car I have ever driven. As of this January Sunday I was convinced my own ignorance that guys who praised these Bavarian machines handling was rambling about something that didn't exist in the degree they portrayed it, I was fooled. This is something every car enthusiast have to try out, even if it's a small 116d. I can guarantee you that you won't be disappointed.
Because of this car I bought an E92 M3 in a heartbeat.
Pictures posted are not mine.
Hi guys, at the moment I'm considering leaving my job at the family business, and become a journalist. So feedback would really be appreciated, as I'm uneducated, and the only way I can shine is to have a respectable portfolio.