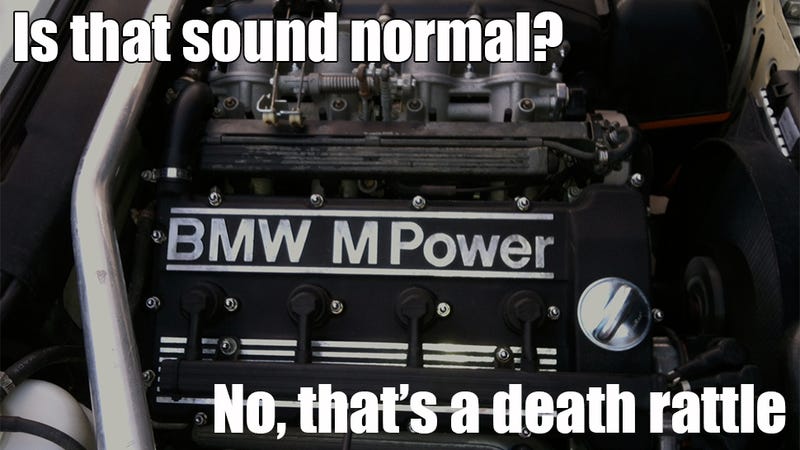 Old BMWs are even bigger money pits when you deal with a bad shop.
Before I get started, know up front that I'm fully aware what I should have done in hindsight. If you've ever had a car you love at a bad shop, you need to know there's a weird set of emotions and compromises you make. You can draw a number of parallels to abusive relationships. You leave a car and end up having to choose between cutting your losses/showing up with a trailer and boxes for the parts or giving more time to get it back complete. Given how much you've already been through by the time you get to that point, you just want the path of least resistance. I also know that I've provided a perfect setup for some schadenfreude. So learn from my mistake.
It's no secret that after finding, vetting, and buying an old BMW you will have a lifetime of maintenance and the associated costs that are higher than average to look forward to. You overlook this fact because the cars are so great. I accepted this fact the day I drove a friend's E30 325i in the late 90s and he told me there was an even better one, the M3. I didn't see an E30 M3 in the flesh until five years later in college when I saw a Cinnabar Red one parked on the Charlottesville. My search then began in earnest. But being a poor college student, I would have to wait until gainful employment and an eBay ad for a Alpine White '88 in rural Ohio came together in 2010.
It was part of an estate sale of a dentist whose life had been cut short by cancer. His son wanted it to go to someone who would take care of it like his father had. Finding out I was a dentist seemed to ease the thought of letting it go. His father had kept every sheet of service paper in folders so I knew its whole life. From a new transmission swapped under warranty shortly after it's initial sale, every oil change and valve adjustment, every time the owner tried a new muffler and would shortly thereafter swap back to stock. The car had been taken care of and I felt a responsibility to continue the watch.
The history showed no accidents, all the body panels were original, and save for a tear beginning on the driver's seat, the interior was in great shape for having covered 178k miles. The only issues that needed immediate attention were a little rust around the sunroof (there was none in the usual location at the base of the windshield) and a spot inside the driver's side rear wheel arch. There was the looming issue of a rebuild around 200k miles and I wanted to be able to drive it like it was meant to be driving without hesitation, so I decided to get it over with soon than later. I talked to quite a few shops in Virginia, North Carolina, and Tennessee. Even shops that dealt exclusively with BMWs were reluctant to open a S14 motor so the pickings were slim. I then saw reviews for a shop in Knoxville that seemed glowing so I decided to test the waters with my daily driver. The differential seals on the E46 M3 I had driven for 96k miles were starting to leak. I talked to Robert Berry at Eurohaus Motorsports and he said they would be no problem to replace. A week and a half later I returned on my first free day off work to pick it up while dropping off my E30 M3. He said he had built a couple S14 motors and that it would be no problem. That was July 2010 and little did I know that it would be one of the costliest mistake of my life so far, both monetarily and temporally.
I should have seen it coming when it took nearly four months (Nov 16th, 2010) just to get around to tearing the engine down and the estimates kept creeping up. I was told the cylinder head needed some "serious machine work." $1275 for the machine work, in addition to the initial estimate of $7400 for the rebuild, and $1750 for clutch, rear diff, and transmission parts.
Here's a partial transcript of our conversations. I dropped the car off at the end of July 2010.
11/26/10

Me: Any updates on the M3?

Robert: Waiting on head

Me: Have a guess when she'll be ready?

Robert: Should have head ties then I'll let you know.

12/10/10

Me: How's the m3 coming along?

Robert: Head will be here tues

Me: Sounds good, I'll be in town next friday to pick up the other M3 from the body shop. If you think it will be ready by then I can arrange to bring someone else to drive the other M3 home, no rush, just planning ahead.

Robert: Will let you know

Me: Sounds good, thanks again.

01/03/11

Me: Any update on the white m3?

Robert: Have been out of town will update tomorrow

01/11/11

Me: Any update on the m3

Robert: Stuck in Florida will call when I get back after all this snow is over

Me: Sounds good, would rather be down there myself.

01/21/11

Me: Any updates, left a couple message with the front desk, no return calls

Me: Some possible track days coming up

Robert: All parts came in have it on the schedule next week

02/04/11

Me: Any progress? Gonna stop by with some c-pillar trim to replace the peeling passenger's side.

Robert: Out of town will be back Monday.

02/14/11

Me: Progress on M3

Robert: Found a place on the crackshaft should get it bak Thursday

03/01/11

Me: How's it coming?

Robert: Will have crank back Monday and we will get right on it

03/10/11

Me: Think m3 the will be ready by next Friday? Will be in town for a family member's surgery next week.

03/14/11 (Three days later)

Robert: Just got in town crank just got here fri.

Me: K

04/21/11

Me: Any news on m3?

04/29/11

Me: Left a message with the front desk last Friday. Haven't heard back about the m3.

Robert: Just got it town last nite will give update Monday

05/06/11

Robert: Sorry I typed in message but didn't hit send. The machine shop is waiting on a main bearing to come in from BMW so we can put oil pan on. I will keep you posted.

Me: Sounds good

05/25/11

Me: Any news on that crank bearing?

06/06/11

Me: Any news on that crank bearing for the M3?

Robert: Got them trying to work back into sched

06/17/11

Me: Any chance she (m3) will be ready by first week of July? Friend is having a car show, kind of hoping I'd bring it. Planning to take it to a couple track days as well. Thanks

Robert: Will do my best sir

06/28/11

Me: Any update on the m3?

08/01/11

Robert: If anyway possible I would like to run 800 dollars on card toward balance to help cover all the work and effort we have already put in the car. Sorry it's taking so long. We want it to be right. If so which card number do we use. Thanks, Robert

Me: Will call with the number a little later.

Robert: Must have written wrong number down it want process

08/10/11

Me: Any luck with the m3?

08/16/11

Me: Been a couple weeks, any updates?

08/17/11

Robert: The new valve is bent ordered a new one last week will keep you posted?

09/14/11

Me: Any luck with the M3?

11/01/11

Me: Any News?

Robert: Should receive head this week sir

Me: Alright, but when we spoke on Oct.13th you said it was expected to come the following Wednesday, the 19th. Something come up?

11/07/11

Me: That cylinder head come in by any chance?

Robert: It is on truck for delivery

11/15/11

Me: Any news on that cylinder head?

Robert: Got head back and we are working it back in schedule

Me: Thanks, keep me posted.

12/01/11

Me: Any news?

12/06/11

Me: Any news?

Robert: I have it on the schedule to start putting it back together got gaskets in today

12/26/11

Me: Any luck on finishing up?

Robert: Had to order some different size valve shims to adjust new valves

12/29/11

Me: So is the cylinder head still the problem? At this point I would think you would ask for the money back on what appears to be an bad head job (it's been there twice and still needs work) and put it towards a new cylinder head (which are available from the BMW parts dept...I checked).

Robert: Head is fixed. The valves takes shims and there are many different ones and you don't know which ones you need till head is together. They come in different thicknesses to change valve clearance

Me: So once the valve shims come in, how long should it take to get it back together, valves adjusted, and running?

Robert: No more than 2 days

12/30/11

Me (email):

Good, two days is good.

2/25/12

Robert: Got the lift opened up for your will be on it Monday. Would like to drive it this week and meet you Friday to deliver it.
What follows is a steady weekly back and forth, including near constant "next week" estimates until I have a lawyer send some letters and he finally finishes in June, just short of two years. I almost have an engine fire when the oil from an improperly installed A/C compressor gets thrown on the exhaust and after that there's a breakdown where an improperly clamped vacuum hose comes loose. Fast forward to 2014 and I've only put 4k miles on the car. I'm still not fully confident about pushing it and the sounds it makes are getting worse. Everything I've ever heard about the S14 motor is that it makes a lot more noise than its contemporary BMW motors, so I take the loud valvetrain and bottom end to be normal. I guess what happened on a drive Patrick and I took should have been a sign:
I take it in for an oil change with a more reputable shop in town who tell me that the bottom end is "very very noisy" and sounds like it needs a rebuild. Considering I had paid $11k dollars for one less than two years and 5k miles ago...I was disturbed to say the least. No one would blame me for not taking the car back to Eurohaus. So, under both the advisement of the shop that diagnosed it as well as my gut, I sent it to Korman, one of the best BMW shops in the US. If you've been to Bring a Trailer, you'll know cars they've worked on bring a premium and their racing history with BMWs speaks for itself.
While the car was in transit, I attempted to get the money back I had spent on a rebuild less than 5k miles ago. Most of the replies consisted of "bring it back so I can look at it" and multiple instances where he mentioned how many years he had been doing engine work and accusing me of abusing the car.
There were some back and forth emails I won't bore you with. You can see his responses to my review on their facebook page if you want the Cliff's notes:
In the past few weeks, I have learned I'm not the only one. Eurohaus has done the same thing to at least four others. I've talked to a few and they "just want their cars back." One literally asked "how the hell did you get yours back? he's got SO many cars just sitting around." They "don't make a fuss" fearing that pissing off Eurohaus will just make it even harder to get them back. Apparently, me getting the M3 back is a fluke among his customers, "the one that got away." Some have been there for 4 years. One of which was scheduled for court in Knox County Monday, July 14th...but Eurohaus got it delayed until January 2015, surprise.
Going back to the forensic teardown of my S14, Korman's tear down confirmed my suspicions
SAE bolts in metric holes, over-torqued and too long, stripping threaded holes in the aluminum cylinder head
SAE bolts in metric holes, attaching alternator adjusting bracket to front cover, stripping metric threads in cover
Incorrectly sized pistons. Clearance between pistons and cylinder wall was twice BMW spec, resulting in the piston slapping/rattling in the block.
Incorrect oil pump. Eurohaus used the oil pump to a BMW 318i which lacks the proper secondary valve to prevent oil drain back when engine is shut down. This causes dry, unlubricated starts resulting in excessive wear and noise of vital components. It is also insufficient to provide flow at high RPMs
Worn valve guides, exhaust valve tilt clearance was over spec
Incorrect valve and valve seat widths. Intake and Exhaust valve sealing surface width nearly twice spec. Larger area resulting in poor seal between valve and head.
Thread locking compound used on cam carrier bolts where none should be used
They also found old parts that should have been replaced during a rebuild.
So now I'm out the $11k+ I gave Robert Berry and Eurohaus Motorsports for a rebuild. I have to pay over a grand to fix the damage he did to my motor. And I have to pay for a new rebuild on top of everything else (which is now more thanks to part scarcity).
I've also found out that according to the Tennessee Secretary of State's website, has been operating without a business license since 08/09/2011
My car is the closest thing I have to a child and I should have vetted the person/shop I left it with better than I did. Always know who you're dealing with when it comes to picking a shop. I still hope I can get some of the original money I spent on the rebuild back, but I'm not holding my breath. If I keep someone from making the same mistake, some good will have come of it. Be careful out there guys.
TL;DR: I spent $25k and 24 months of my life on something that should have cost $10k-12k and 1 month. Be careful who you do business with.