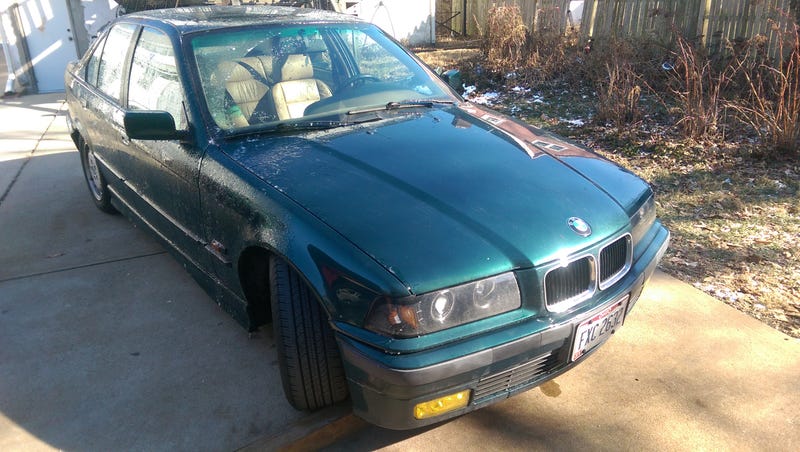 When I first saw it for sale, it caught my eye, but not so much that it was a top contender to be my car. After seeing what else was out there in my small budget, I came back and took a look at it. It needed too much work, it was rusty had 163,xxx miles on it, it was priced a little high, and worst of all, it was a BMW. I thought that it would be hard to live with, it would make me look like someone I wasn't, but I needed a car and it was there, it was in that front yard that I had driven by hundreds of times desperately needing a good home. So, I made an offer on it and bought it; I bought a 1996 BMW 328i sedan that needed all of the work, but it was mine and I was happy.
10 minutes after picking it up, the radiator broke.
I was distraught, but I collected myself, called the seller, got some money back, and put a new radiator in it. That wasn't so bad of a job, so I did what any insane person would do and moved onto the next job. I replaced the front window regulators, I got the AC working, I replaced the stereo, replaced the rear speakers, belts, hoses, exhaust, headliner, rear seat bottom, headlights, fog lights, suspension, etc… I just couldn't stop myself from pouring my money and love into this beat up little car. I loved the way it drove, I fell in love with the way it looked, and it taught me how to drive a manual and how to fix problems. I really can't stress how much fun this car is, but I finished school, landed a good job, and this week I have found a newer car, but I can't have both the 96 and my new car.
So, they time has come for me to part ways with my beloved E36. As much as I hate to do it, it has to go.
This is what brings me to write this post, the car is for sale and I want it to go to a good home. I know that either someone here would appreciate it as much as I did or knows of someone who would.
For sale: 1996 BMW 328i Sedan, Boston Green Metallic, 2.8L Inline 6, 5-Speed Manual Transmission, with 193,000 miles on it, $2,500 obo.
The Great: The Michelin tires still have plenty of life in them, as do the brakes. Clutch is less than 10,000 miles old. The Eibach Pro-Kit springs and Borla catback exhaust were installed last year. The 12 speaker sound system with Alpine head unit sound fantastic and the motor sounds even better. Heated power front seats, with split folding rear seat back. On board computer works as do all of the gauges.
The Not So Great: Rust, paint damage, squeaks and rattles from interior trim. Driver's seat is ripped and worn (but still damn comfortable). Check engine light is on from the 49-state legal catalytic converters and a "gross evap leak," both of which are meaningless to how it drives, but the light is on none the less. The airbag light came on last year, but the original airbags are still there (changed out the steering wheel and bushings behind it, but re-installed the original airbag).
Really this car would be perfect for AutoX or for a college or high school kid who needs a fun but not too fast, cheap car. If you're in the Cincinnati area and interested, please leave your email below with spaces between and @ spelled out at to prevent spambots. After I get it, I'll delete the comment so that no one else grabs your info.