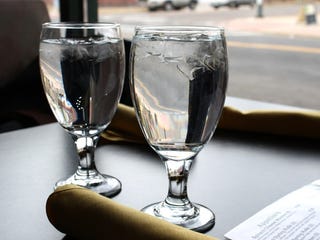 I love the taste, texture, and precision of the wetness to density ratio that remains consistent throughout the containers consumed volume. Many people don't realize how great water tastes due to the fact that material contaminates distort water's natural piquancy. Now, dont get me started on mineral additives or the disgusting and complete perversion of water through the use of carbon dioxides.
Honestly there has been a societal decimation of modern Aquagustationalism over the last hundred years and, contrary to what many Aquagustational Socio-Analyst report, this fall of water did NOT peak in the 70s and surge forward again with the popular advent of consumer grade bottled water! Alas, bottling was the transparent coffin that sealed the death of any opportunity children had to create a proper flavor profile for the only substance that can be described as "life."
*This is all true, water is my favorite thing to consume. That said, this post was spurned by a certain movie I may have been watching earlier. Points to the person that knows what fantastic movie heavily propagated by proper hydration and discernment of consumable water quality.