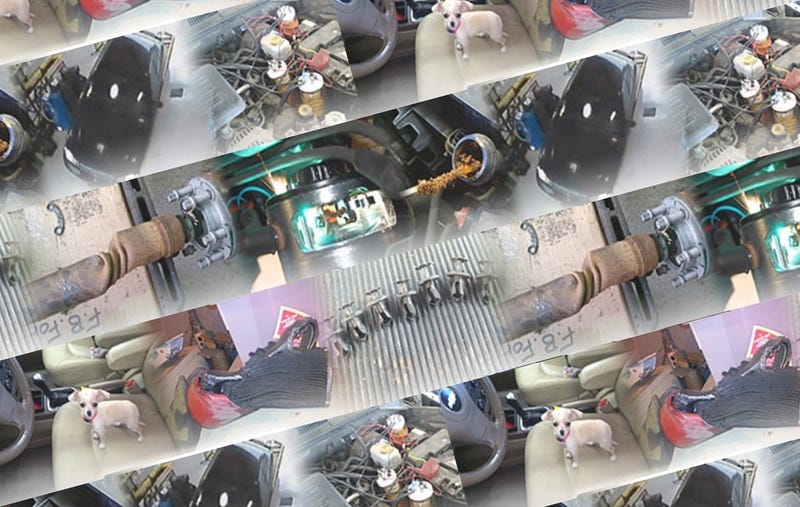 Reddit's Just Rolled into the Shop is a veritable cornucopia of the many wonders and oddities of shop lyfe. You never know what's gonna roll in. Here's what caught my eye this week.
---
Can't wait for the baby shower! (ah, there it is)
---
Heads will roll for this.
---
Wouldn't you rather be His feet?
---
Urban submarine, AKA "Suburban"
---
Lots of videos this week! Anybody know how to embed these ones?
---
Obligatory eclipse post
---
Fan, meet fins. Fins, meet fan.
---
Small blockhead swap
---
Have you considered a weight-loss program?
---
If you don't want to do the job, then go on strike.
---
Aw, shoot.
---
Challenge accepted
---
Oh, solder off.
---
I like. Big. Blocks and I cannot lie.
---
Kinja crop, how do I love thee? Let me count the ways...
---
Great question!
---
Frosty!
---
What's next, a literal pumpkin axle?
---
Cleanup on aisle 2.
---
Hell in the cell
---
The driver stated he was driving down a back road at night and glanced down at his phone. In that instant, the truck drifted off the road and his right front tire hit some gravel.

That's all it took for the truck to grab, sending him into a telephone pole with enough force to snap the heavy gauge bracing wire (not sure the actual term but it's heavy tensioned wire from the ground to the pole for bracing purpose) which then whipped down and across the whole truck like hot knife through butter.
---
I'd love to hear how this gets torqued to spec.
---
Well, isn't that swell.
---
RIP little guy.
---
A whole gallery of halfassery!
---
Obligatory brake post
---
Obligatory tire post
https://www.reddit.com/r/Justrolledintotheshop/comments/6w65p8/the_other_tire_is_doing_fine_both_tires_are_still/