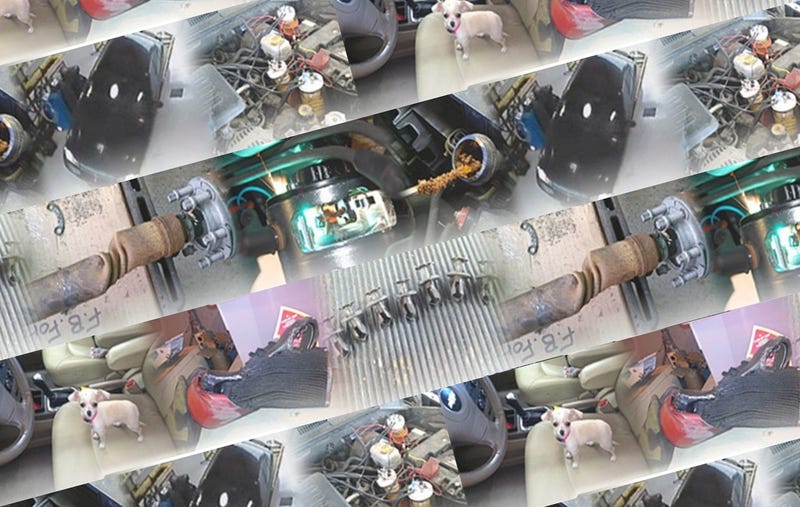 Reddit's Just Rolled into the Shop is a veritable cornucopia of the many wonders and oddities of shop lyfe. You never know what's gonna roll in. Here's what caught my eye this week.
---
Just-a-bull suspension
---
Bye-bye balls.
---
For all you guys guessing v-tec, you're way off. This is a volvo d16
---
Genuinely just had a little rattle, ran that way almost 200 hours till the customer decided it would be best to find the source.
---
Why do I get the feeling that this is about automatic headlamps? *sigh*
---
Have we come full circle?
---
Didn't even melt the A-pillar trim. Old man was on oxygen and had a tank in the car. Could have been so much worse
---
Replaced the alternator on my regulars Taurus and went on a small test drive. Parked it and was talking to my service manager when the customer comes in and says "I think my car is on fire." We walk out and sure as shit. I put it out and the alternator was toast. I had a mini heart attack. I looked at all the wires and everything was right.
---
Nope.
---
"Breaker bar"? Well, kinda...
---
:(
---
Play time!
---
This was a 'permanent' repair. It's in the shop for unrelated issues.
---
(Kinja crop tool met its match on this one, but I prevailed anyway.)
---
So apparently this is a thing. Good to know!

---
The timing gear had danced halfway off the crank nose, any more driving and the valves would have kissed the pistons.
---
Subarust
---
The jokes just write themselves...
---
Y'know, just in case.
---
DisTURBing
---
Never worry about dirty filters again!
---
Ron White isn't surprised.
---
Obligatory tire post
---
Obligatory brake post