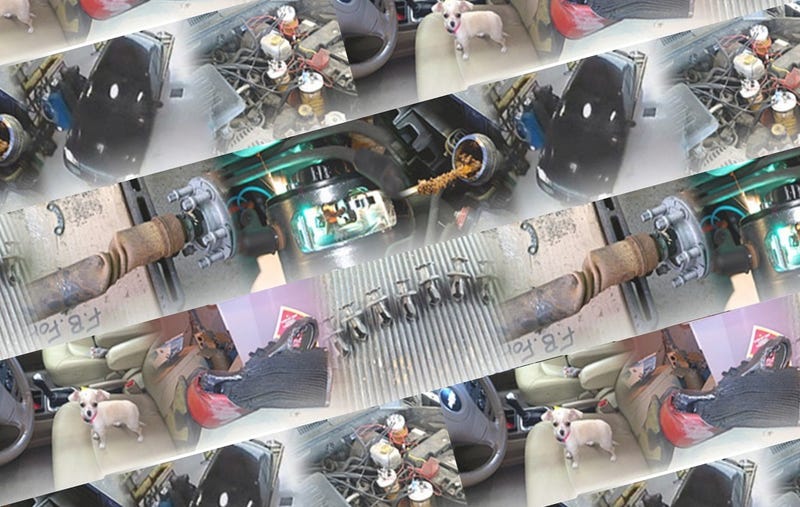 Reddit's Just Rolled into the Shop is a veritable cornucopia of the many wonders and oddities of shop lyfe. You never know what's gonna roll in. Here's what caught my eye this week.
---
Reddit to the rescue!
And because one good deed deserves another:
---
Don't worry. If it falls off, just watch where it goes.
---
I wonder if you know
How they brake in Tokyo
---
Pop! goes the weasel
---
This is how you end up on Santa's knotty list.
---
727 Torqueflite out of a 79 Scout. Leaked like a sieve and had a good inch to inch and a half of old atf and clay on almost everything.
---
Well, shut me down.
---
Trailer wiring harness, lazily routed through the rear suspension.
---
Apparently the safety locks on this lift had failed some time ago, and the technicians had been sticking a screw driver in the slot to manually engage one safety. The cables snapped from constant pressure, as did the "safety screw driver" as I have dubbed it.
---
Shift-it spinner
---
Punctual!
---
It's been negatively affected.
---
Ford. They put way too little fluid in it, the fluid is filled for life and then someone decided to put the exhaust right beside it.
---
You know how much negative energy it must have taken to generate a flow this size?
---
This is not a drill. Repeat: this is not a drill.
---
I guess break-ins must be against Dodge Law.
---
Loose nut behind the wheel...
---
Hinge cringe
---
I can think of better ways to throw your money down the toilet.
---
What a twist!
---
ATGATT
---
Weight reduction
---
Click the link for video:
---
Obligatory brake post
---
Obligatory tire post