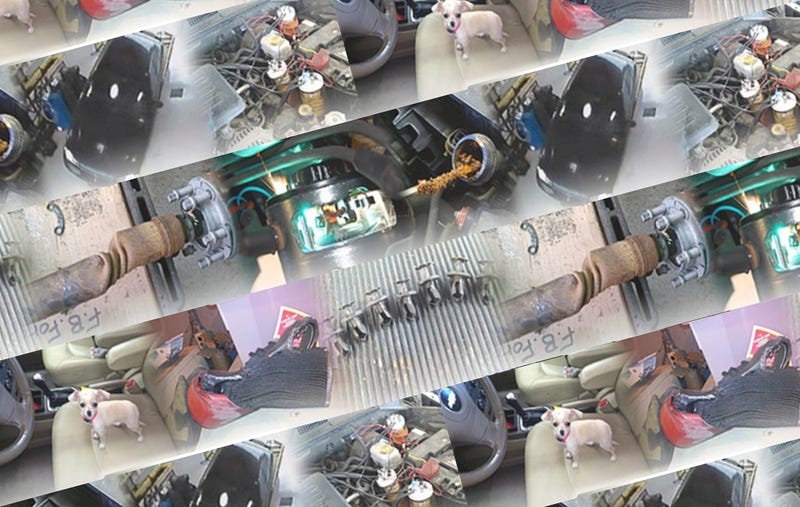 Reddit's Just Rolled into the Shop is a veritable cornucopia of the many wonders and oddities of shop lyfe. You never know what's gonna roll in. Here's what caught my eye this week.
---
A master colander might come in handy now.
---
What would YOU do for Klondike bar?
---
Room with a view.
---
Somebody's gonna get their ball torqued for this.
---
The very definition of "temporary repair"
---
This filter fought the good fight.
---
A coworker of mine found the shop that installed this antenna in the explorer. It was for the FCC. The disk is a large FM antenna. They would send 3 of these vehicles out and listen to a pirated radio broadcast and then they could pinpoint where they were coming from.
---
No meatballs?
---
Oh Great (Stuff)
---
1970 Ford LTD sitting with only 33K original miles on it, found this when we went to pull the sump and pan
---
Black gold. Texas tea.
---
Don't bring a hand to a zip-tie fight.
---
MY CAR RUNS ON SCIENCE
---
I'm not even mad.
---
Argh, another Reddit vid I can't seem to embed. Just click through...
---
You say lifetime warranty, you better mean lifetime warranty. Somebody will hold you to it.
---
I bet you'd get no good cotomer sevis after buying these.
---
The deck is stacked against this guy.
---
What a cluster fuck.
---
Frame'd
---
This is an oil bath steer hub on an 07 Volvo day cab city truck. There was evidence of grease but no oil. These got hot enough to change the color of the steel (around 550F) Driver didn't do his pre trip. There was a ton of rust on the outer edge of the spindle.

The weld in the races is to get them out of the aluminum hubs. It makes them much easier to remove
---
---
I like it!
---
"Breaker breaker one nine, is there anything behind me?"
---
Get yer barf bags ready
---
Obligatory tire post
---
Obligatory brake post