Reddit's Just Rolled into the Shop is a veritable cornucopia of the many wonders and oddities of shop lyfe. You never know what's gonna roll in. Here's what caught my eye this week.
---
I usually try to keep these round-ups down to about 20 or so posts, but I'm afraid I failed you this time, Oppo. Buckle up and enjoy!
---
04 Hyundai with 96k miles. rear camshaft seized and snapped the gear off.
---
Just the boot. He also forgot to tighten the spindles before he lowered the car down.
---
Where'd you find this- down on the corner, out in the street?
---
Giub-no
---
But the bleeder's so clean!
---
2.2l Subaru Impreza Outback, headgasket failed due to overheating/warped heads.
When I asked how it overheated: "I was driving without a radiator cap for a little while because I couldn't find it."
---
What a padch job.
---
That's slightly terrifying.
---
Interference engine
---
WAT
---
I think it has something to do with a sunroof, but I can't stop laughing.
---
Ain't no jay bee weld gunna fix that, I reckon.
---
Damn varmints.
---
Oh snap
---
Drat, foiled again!
---
Where's the "30" line- oh there it is!
---
GTFAC
---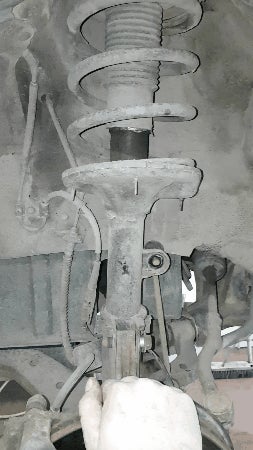 ...in my little red wagon...
---
Uh-oh, where'd it go
---
They say you can't take it with you...
---
Cold night before it was properly winterized
---
I did nazi that coming.
---
How about let's stop using timing chain -driven water pumps, huh?
---
This beaut just rolled out of the barn
---
Poor casting or something failed somewhere and just started chewing shit up. Dude was about 10 miles out from us when suddenly it "started running rough" and landed here. We extracted a paper plate full of chunks of metal and there's even more still in the engine
---
Not even one bolt? Lame.
---
Um... u sure?
---
Saw something like this once on a company truck. Scary.
---
One one hand, you totally asked for it. On the other hand, don't fuck with another man's vehicle.
---
Just got a little bit hot.
---
Obligatory brake post
---
Obligatory tire post

---
Bonus tire post (follow-up from last week)