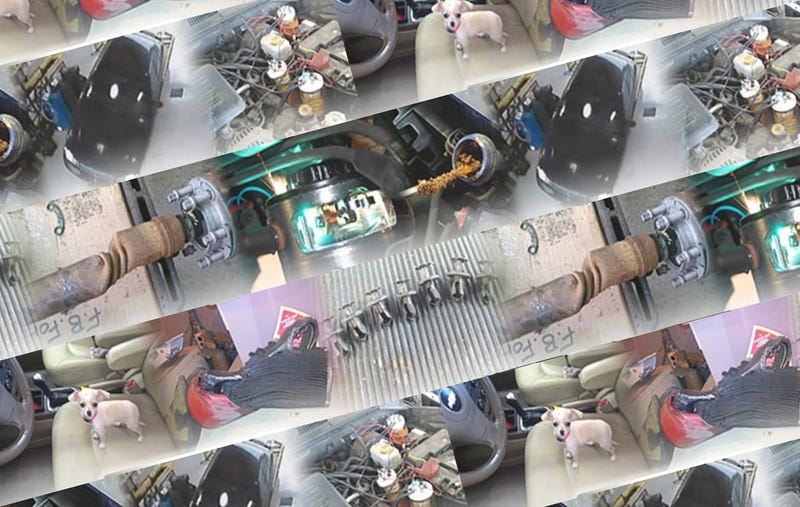 Reddit's Just Rolled into the Shop is a veritable cornucopia of the many wonders and oddities of shop lyfe. You never know what's gonna roll in. Here's what caught my eye this week.
---
I blame Phillip
---
Mint
---
These are your wires. These are your wires on crack. Any questions?
---
bruh...
---
Wow. They're really going through with this. Daaaaaamn
---
(click for video)
---
Witness said the missing chunk flew well over 200 feet. Nobody was injured. The idiot responsible was distracted and let it go over pressure. Needless to say, he longer works here
---
2017 escape 1.5T
---
A pipe nuts on a v6 accord. Doing an oil pump gasket.
---
I bet he wears sunglasses at night, too.
---
Barelyng
---
Cruchy
---
egads
---
Hopefully the fuse was oreiented to protect that wire...
---
72 fiat
---
Let me add that this is on a 1990 s15, all the bolts are in coffee cups, and all big parts are thrown in the back of the bed.
---
Oh hail naw
---
(click for video)
---
That's a lot of dust for 33 miles...
---
Zap!
---
Jammin'
---
Hit the road, Jack...
---
To clarify, customer's fuel pump failed and the tank was lowered so that it could be replaced. While the tank was sitting on the stand under the vehicle, the tech soldered a loose connection above the gas tank. Things got crispy from there
---
Cat delete 😂 for some reason they replaced it with this and I don't think the kid knew about it either noting the look on his face when we brought him out to show him. Long story short we had one of our guys cut it off and replace it with a new cat
---
How about sprinkling a little on that exhaust above?
---
It was early morning, it had been raining but was nice and clear and warm so I went out to drive it around to dry it out since it doesn't stay in a garage. Heard a rattle when I started it, went to check the engine. The belt looks loose, like it's got a lot of slack but it's moving so quick I can't tell. So.... So I fucking reach my finger out to see if I can feel the slack slapping my finger. On the inside of the fucking belt. Yes. I did that. Yes. I know. Before my brain could tell me what an absolute moron I was being the belt grabbed my finger and poof, donezo. The single most absent minded dumbest thing I've ever done and I hope it stays that way...

I'm fine. I'll live. A few month for full recovery which definitely sucks but I could have been dumber.
https://www.reddit.com/r/Justrolledintotheshop/comments/7ti33a/nsfw_friendly_reminder_guys_dont_touch_moving_fan/
---
Obligatory brake post
---
Obligatory tire post