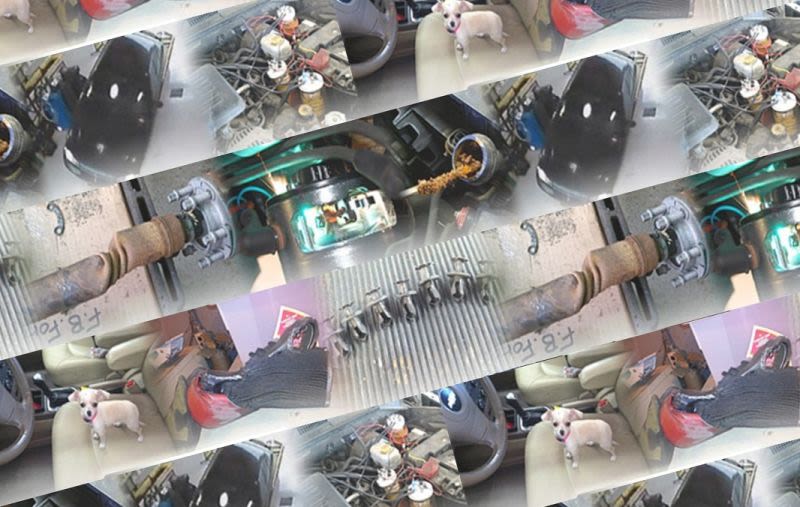 Reddit's Just Rolled into the Shop is a veritable cornucopia of the many wonders and oddities of shop lyfe. You never know what's gonna roll in. Here's what caught my eye this week.
---
Can you replace my heater core? kthxbye

---
These cars come in the door running like shit, customers complain it's marketed as affordable, then cost $1500 in repairs at 40k miles
---
The 4th one was hanging on by a thread. That wheel was about to come off.
---
This bad boy comes out of a 3rd gen Toyota Prius... Lists out at $830.
---
Trans fluid by the way... This was a 4l60e
---
[Freightliner] Coronado
---
---
The vehicle was in an accident, so probably just didn't care.
---
Motor locked up solid. Customer never answer the phone and basically abandoned the vehicle. Several weeks later an insurance adjuster shows up asking questions about water ingestion, turns out customer ate a pretty deep puddle.
---
Put 'em together and what have you got? Bibbidi-bobbidi-BMW
---
Yoo need noo nuts, numbnuts.

---
On MY12 and up RAM 2500 and 3500's you have to tip the full oil filter on its side and pull it out between the frame rail and inner fender liner...
---
Intake Air Heater, i never figured out what caused the fire. I'm guessing it was because of a large amount of carbon buildup
---
Not again!
---
Crusty cranker
---
...it's a mower brought in earlier this week. The pinion shaft was so worn it would jump completely off the rack.
---
Well that would make me throw a Fit...
---
(click for video)
---
It came in seized. The video is me draining the oil before packing this engine in a crate and shipping it back as a core.
---
The tire guy strikes again! Whoever pressed the tires on didn't pack the bearings, and I didn't see anything that looked like a cotter pin the keep the castle nut on. Good times!
---
Obligatory tire post

---
Obligatory brake post