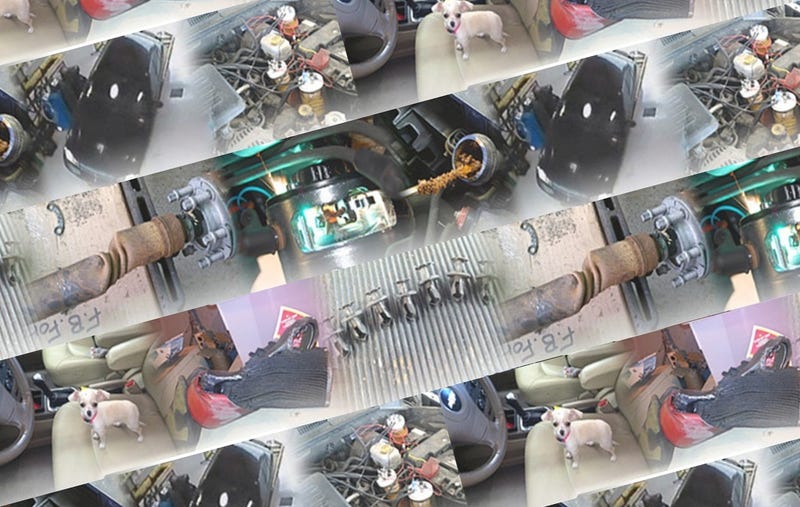 Reddit's Just Rolled into the Shop is a veritable cornucopia of the many wonders and oddities of shop lyfe. You never know what's gonna roll in. Here's what caught my eye this week.

---
Good idea!
---
17 CRV. Customer complaint was bright light and loud noise now car won't run. Insurance making me replace one control unit at a time. Nothing communicates, wierd shit stuck on... Not a single fuse popped. All control units scrambled.
---
"But I unplugged it!"
---
Got a belt put on and fired it up. Kind of a neglected vehicle, but seems it be idling pretty smooth... Must have stripped on a startup instead of while driving. I didn't expect it to work.
---
Date was 09-02-2016
---
Mole-B-Gone
---
Kualitee werk
---
This looks like a good way to piss off some pixies.
---
No pinch. No pinch.
---
Why spend just a few bucks at a time on oil changes when you can spend so much more, all at once?
---
Customer decided that was a good lift point to do his own oil change
---
B class. It's necessary for 2005-2013 A class too
---
...the compressor pumped the inground lift to go up middle of the night.

Even though he was pre warned several times to shut valve off and cut power to the compressor (which is already installed) prior times by other shops (including us) who could hear his compressor kicking on during closed hours.
---
Neat.
---
...like 500. The whole floor was like this.
---
(click for video)
---
...just a Chevy option fake chrome wheel. Aluminum core with foam on top of that and plastic chrome on top of that. All of the plastic chrome is gone and the foam is starting to go.
---
It was only holding it at around 1300 rpm and would run it up to around 2k if you stepped on the brake. The customer's actual complaint was that it would run high when starting.
---
Negative contact, over.
---
And you thought those torque ratings on new cars were advertising engine power? Pffff
---
Obligatory brake post
---
Obligatory tire post