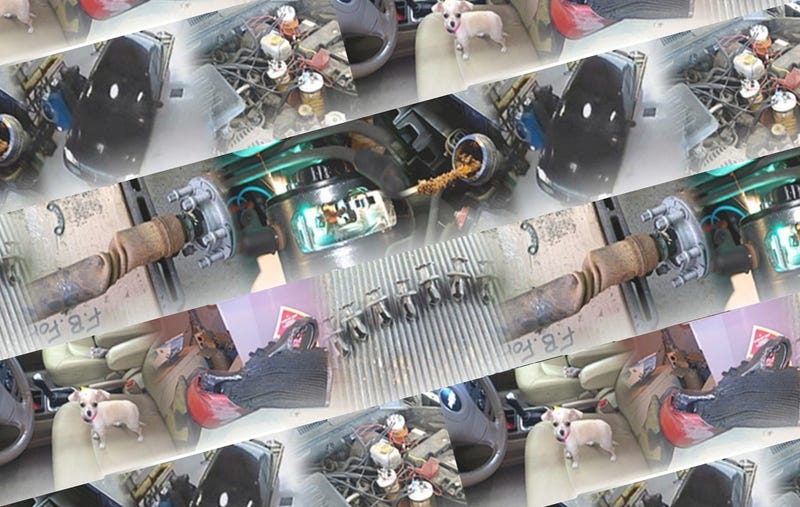 Reddit's Just Rolled into the Shop is a veritable cornucopia of the many wonders and oddities of shop lyfe. You never know what's gonna roll in. Here's what caught my eye this week.
---
He's gonna rock down to Electric Avenue, until the car's on fire...
---
Sure you don't want to, oh I don't know... line up the pieces first?
---
Layers
---
2008 Xterra
---
RIP filter. You did your job well.
---
There's actually a good reason for these weights. Read on:
In case of Kinja break glass.
---
An all-too-familiar sight, yet still disappointing to see. Especially on a 2006 model...
---
Go home earwig, you're drunk.
---
Dee-eye-what?
---
This probably explains something.
---
It's time for a brand new chain
It's time for a new valvetrain
Along with tensioner and guides
You need not wonder why
You need not wonder why
There's no time left for you
No time left for you
---
Cue Dwayne Johnson "The Specialists" commercial...
---
2014 Corolla CVT, 92,000km
---
PowerBroke
---
Top it off!
---
Snap-On nest
---
Family reunion
---
Say it. You know you want to.
---
2013 BMW X3... 90k miles
---
Huh. I haven't seen this kind of packaging yet. Interesting.
---
Obligatory brake post

---
Obligatory tire post