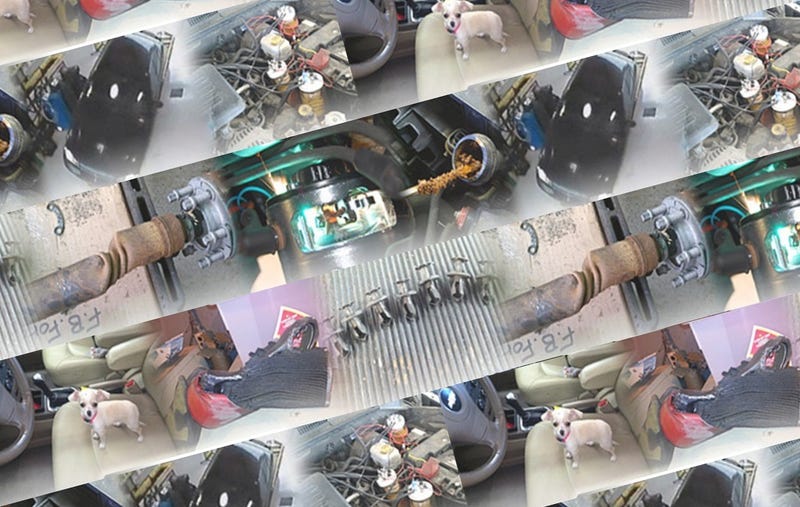 Reddit's Just Rolled into the Shop is a veritable cornucopia of the many wonders and oddities of shop lyfe. You never know what's gonna roll in. Here's what caught my eye this week.
---
---
The cocoon of Bibendum
---
6.4L Hemi in a Jeep Grand Cherokee SRT8... The plastic valve lifter guide broke, allowing the roller lifter to turn 90°. So instead of the cam rolling on a smooth roller, it was grinding against the roller, eventually wiping it.
---
The[y] were out of wack just backing out of the bay.
---
Well that sure is a neat trick, if I don't say so myself.
---
Vomituri effect

---
Old man came rolling in for a oil change and his caravan died 10 ft from the service drive. Pop the hood and found this. Body work had just been done to that corner and it looks like they forgot the nut on the main power to the fuse box...
It was a handicap van so I think the suspect wiring was from all the addons for the ramp.
---
Watch out for those threads!
---
2018 F-150 with the 5.0 V8... It made about an 8 inch wide cascade of oil when it came out. So frustrating.
---
From an '04 with only 69k miles. Made it just in time for the recall with the 15-year limit.
---
Oh snap
---
Yessir, Mr Jackson. Right away, Mr Jackson.
---
Barelyng
---
Don't tempt me with a good time.
---
Customer was travelling from Washington to Delaware. She stated that it was just installed by the worlds laziest U-Haul installer, back in Washington last week. She made it to South Dakota before being pulled over for no lights on the car dolly she was pulling.
---
2016 under 50k
---
...it was totaled as lots of electronics like control modules were fried. It was towed in totally dead, no sign of life or even a single little light in the dash if you tried to start it.
---
Obligatory tire post
---
Obligatory brake post