Reddit's Just Rolled into the Shop is a veritable cornucopia of the many wonders and oddities of shop lyfe. You never know what's gonna roll in. Here's what caught my eye this week.
---
Wait did you say gallons?

---
(click for video)
---
Seal of approval

---
Oh yes they can

---
Very very temporary
---
Engine idling with no oil and the input shaft wanted to connect to the mainshaft.
---
He was literally dragging one wheel, the diff was trashed. After I pulled both axles it spun "free"
Also for anyone who cares this was on. 12' Chevy 3500 with a 6.6 Duro.
---
...this tray is mounted in the back of a Ford Explorer. We strip the vehicles down, run our wires, install a bunch of shit (laptop stands, partition, gun lock etc) then reinstall the factory stuff and the electronics tray is the last step and ties it all together.
Lights, siren, etc...
---
(click for video)
The original shifter assembly had soda spilled all over it causing the solenoid to stick. We replaced the shifter with a factory Ford part and this happened. We ordered another one, and the same thing. Upon further investigation we found 2 wires were mispinned in the connector of the new shifter assembles. Fucking bullshit.
---
RIP

---
[time for a] New tank and ring. Or if your my dipshit boss, go to my bay while I eat lunch and chisel away at the rust until you puncture the tank, and then get a new tank and ring. 
---
...this is his daily driver😂
---
Found both outer tie rods not even connected. Begs the question of how the vehicle got this far without the driver noticing anything.
---
Fatigue failure and consequential damage. Turbine was also broken off. Almost 500k miles on a semi truck
---
Firestone over tightened so hard that it rounded off.
We get the Jeep.
Then when we get the extractor socket to finally grip it.... it sheered the lug nut in half before loosening at all.

Got em
http://i63.tinypic.com/2h4ynog.jpg

$65 labor and $14 parts. Smh
---
It's a big compressor, I'm sure it will sound instantly... the first 5 seconds in a large, hollow, concrete building should be fun
---
If it chips, I sits
---
Right to the board. Needed new fuse block for a 2019 Sierra. The truck had less than 500 km.
---
Even with Honda's fancy capsaicinoid tape. Third time the truck has come back for the same problem.
---
Oh I like this game
---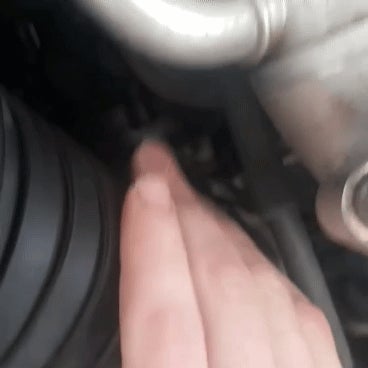 Audi a6 1.9 diesel i think.
---
Chevy sonic, not sure how many miles he put on in that day but it's crazy.
---
Obligatory tire post
---
Obligatory brake post