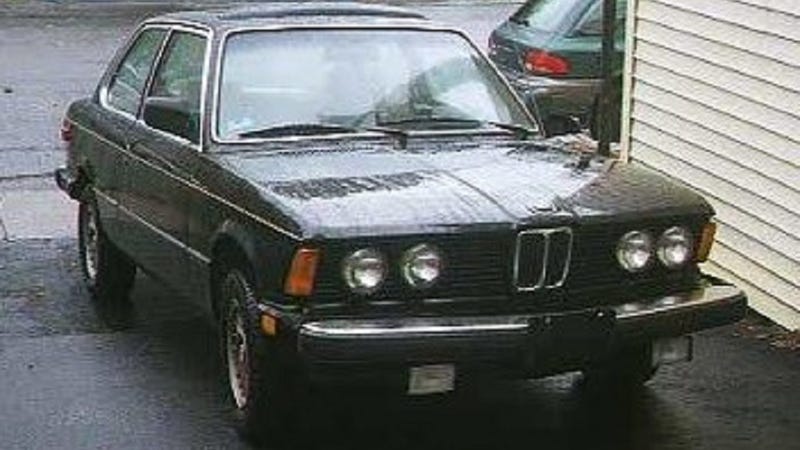 Igor (pronounced EYE-gor, like Marty Feldman's character in Young Frankenstein) was my 1983 BMW 320i. I had recently discovered autocross. I was running with the Boston Chapter BMW CCA, who were kind enough to actually let me run my daily driver, a 1995 Mercury Tracer, in one of their non-BMW classes. After triumphantly placing 12th out of 12 in class my first year, it was clear that my Tracer, an automatic with a whopping 88hp, was not the best choice of an autocross car.
One day, reading the Bimmer, the chapter newsletter, I spotted this 320i in the classifieds for $1000. I had the money kicking around, and I wanted to get serious about my new automotive hobby with a project car that I could autocross. Even better, it was a BMW, which would let me run in the club's BMW-only classes, where a point system based on your car and your modifications determined what class you run in. This appealed to me a lot more than SCCA classes, where you could do some mods but not others, and one wrong move could punt you straight to Modified. (Street Touring and Street Modified didn't exist at the time, so this situation was somewhat common.) Sure, it was a theft attempt victim many times over, with a passenger door lock that couldn't be opened from the outside, an ignition switch with no key dangling on the floor, and no stereo. The seats were shot. The shift lever moved left and right in gear as much as it did in neutral. And there was a little surface rust here and there. But it was what I wanted, and the price was right. I brought it home.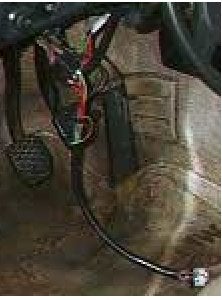 After getting yelled at by my girlfriend, I worked on fixing it up a bit. A pinhole leak in the radiator was cured by a bottle of Stop Leak (I didn't know any better at the time). After getting a very expensive quote to repair the ignition switch in the steering column (BMW broke the bolts off at the factory as a theft deterrent, so it was a labor heavy job), I bought an $8 generic ignition switch, removed a lock from an aftermarket alarm that clearly didn't work anyway, installed it in the hole in the dashboard that the alarm lock left, and wired it all up with the help of the Haynes manual. I replaced the dry rotted tires with Sumitomo HTR4s in the enormous 205/60/13 size, much wider and shorter than stock. And, of course, I replaced the missing stereo.
This car suffered from some of the common E21 issues. The hazard light switch broke and made them start blinking spontaneously, so I had to replace it. The hand cranked sunroof also broke. I'd made a friend on the E21 Digest with a parts car who hooked me up not only with a replacement sunroof gearbox, but a bunch of other parts too. I got a couple of extra tail light sockets and turned my empty rear fog light lenses into additional brake lights. In preparation for doing BMW club HPDE events, I replaced my 85mph speedometer with a 120mph unit from an older E21. I "tampered" with the odometer to make it match the one I removed from the car so it would continue to be accurate.
I did my first rust repair on this car. There was no worse feeling than taking a sander and scuffing up my BMW. But it was for the best in the end. Not having a garage nor any painting facilities whatsoever, I filled in the rough bits, then primed and painted from a rattle can. It was actually a pretty good match with the rest of the car. I don't think anyone but me noticed.
I added the 17mm rear sway bar from a 320iS. The 320i came with no rear bar, and simply bolting this one on decreased body roll dramatically. Unfortunately, around tight corners on an autocross course it also caused the inside rear wheel to lift off the ground. The 320iS had a limited slip differential, but with my open diff I'd just light up the inside wheel until I straightened the car out. The BMW club ran the same course all year at that time, so I could compare my times from one event to another. I found that I was actually slower with the rear bar than without it, so I removed it. I never got around to installing the stiffer front sway bar from a 323i. That probably would've helped.
The best modification I made was a pair of Recaro seats, also from a 320iS. I drove out to Schenectady, NY to buy them from another guy with a parts car. We swapped them out on the spot, and I left him my original seats in case he ever decided to reassemble the parts car. Then I took the Mohawk Trail home, and put the new seats to the test over the twisty mountain roads. Though vinyl rather than cloth, these were some of the best seats I've ever had in any car. It's no wonder that 2002 drivers seek them out to put in their cars.
It all went south when I became interested in a '73 2002 for sale at a very reasonable price. I made the mistake of taking my 320i to go see it. The car must've gotten jealous – it suffered multiple simultaneous failures right afterward, preventing me from selling it to finance the '02. That's my "one that got away" story. With the help of the second shop I brought it to (the first one just let it sit in their yard for two months, untouched), I got it working again, then sold it to a friend. During its down time, I started autocrossing my Saturn SC2 instead, and discovered it was actually faster than the old BMW, so I no longer needed it for autocross.
But I still have fond memories of the old 320i. I had fun driving it around. I enjoyed people getting all "Ooo, aaah" over the fact that I had a BMW, despite the fact that it was one of the cheapest cars I've ever owned. I had fun autocrossing it. But most importantly, I had fun tinkering with it. I learned a lot from this car, and made many of my first stupid tinkering mistakes on it. The E21 may be the redheaded stepchild of the 3 Series fleet – not as refined as the E30, and slower, heavier, and cushier than the 2002. But it was my car, and my project. It made me happy, and that's what really mattered.