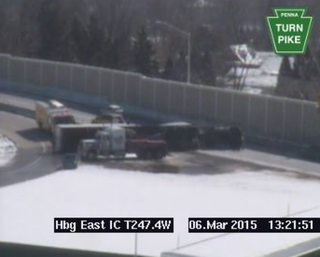 ...was interesting. I was running a bit later than usual, and managed to miss an overturned tractor-trailer by about 10 minutes. The truck was carrying rolls of aluminum.
Luckily, my ramp (eastbound entrance, left in the picture) wasn't completely closed when I went through. The accident happened around 1 pm. Some emergency personnel were on the scene when I went past around 1:10 pm, but the scene was still pretty fresh. The driver was hospitalized, according to local news. Fortunately, nobody else was on either ramp when the truck rolled.
To be honest, I was a bit surprised to see the roof of a trailer sitting in front of me as I came down the ramp.