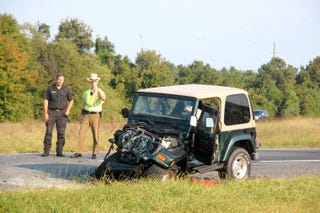 Back on Sunday, March 20th (end of our Spring Break) our principal got into a terrible car crash. Around 2 AM, he lost control of his 1988 Wrangler and hit a utility pole. He was in critical condition and had to be airlifted to the trauma center. At the time, there was no confirmation alcohol was a factor.. Today they released the data...
According to a blood test done at the scene, his BAC was 0.211. Florida's legal limit is a 0.08. He was nearly 3X the limit. This looks really bad being that he is a high school principal. He was out late the night before getting back to school, driving while intoxicated. He messed up.
But I think what bothers me most is that people are DEFENDING him! Comments on local sites say "We all make mistakes" and "don't judge him". I'm sorry, but if you are driving nearly 3x the legal limit, you don't deserve a second chance. You very well knew you were drunk by that point. What if he died? What if he killed someone else? What he did was terribly dangerous and could've ended so much worse. I hope he does step down as principal. That's inexcusable. The fact that the public is defending him really bothers me.