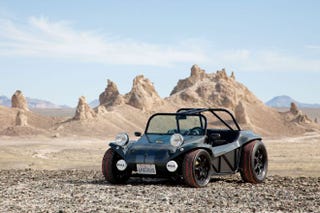 Not "sand rails." Not 4x4s. Not Baja bugs either (though, kind of). I have become obsessed with Meyers Manx-style dune buggies over the last few weeks. Should I indulge in this fantasy and buy one or keep my Toyota pickup truck that is practical*.

*At least, it will be after I patch up the leaks.
Pictured: the style of buggy I'm talking about. Though I would go a little off-roadier... just enough to rip donuts at Pismo or Johnson Valley.
I haven't decided yet if this would actually be fun or just annoying.