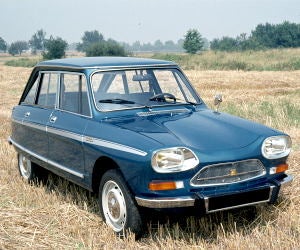 The Citroen Ami Super, basically a rebodied 2CV with a facelift and the bigger GS's 1015cc flat-4, has captured me for some reason.
I've been on a 2CV/Dyane/Ami kick for awhile. I love the innovative durability and simplicity, teamed with Gallic quirkiness. The later Ami 8's were de-uglified, and the later Super models - with all of 55hp - were able to get out of their own way.
I kind of wonder if any of these made it to the US before Citroen closed up shop here in 1975. I bet they're super rare, though.
What does Oppo think?