Another Monday brings a road trip to one of our repeaters for the flood warning system up on top of a mountain in the next county over. This is on top of a 7500ft mountain from the surrounding desert floor that's about 4200ft in elevation. It was a glorious 15 degrees cooler up there than on the desert floor.
These first two pictures look West over the Northern reaches of Caballo Lake and the Black Range of the Gila National Forest off in the distance. Looking East in the next two pictures gazes out over the Jordana del Mureto section of the El Camino Real de Tierra Adentro with the San Andres Mountains off in the distance. Today this area is still remote ranch land, test ranges for White Sands Missile Range and home of the still fledgling Spaceport America.
G/O Media may get a commission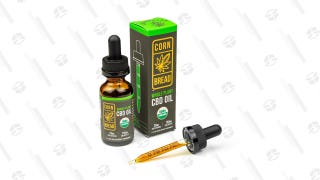 Certified Organic CBD Oil
Multiple agencies have access to this radio room, so I wasn't too surprised the 1/2" ratcheting wrench I mistakenly left up there in March wasn't around anymore. I did pickup a couple of spare GPS cables I had also left up there. Our repeater for the flood warning system also got a grounding upgrade to a nearby ground bus bar while I was there. The real purpose of this trip was check on things in a fairly remote radio room the more elderly radio shop guys from IT don't get around to often, and to show a coworker around the antenna farm up there. I'm firmly in the camp of no institutional knowledge should ever reside with only one person, so it had been on my list for awhile to make sure someone else from the commission knew how to get up there and the layout of our equipment up top.
This field trip meant I got paid for driving around in the desert for most of the day. It's four hours of drive time round tip, with two hours up and down the mountain in 4wd-low with the rear diff locked and very, very carefully picking lines over rocks in a stock height truck, which is also another way of saying this is a gloriously scenic place the Subaru set can't get to. I'm thankful a job wherein I spend less than 50% of my time in the office. I like playing in the dirt.