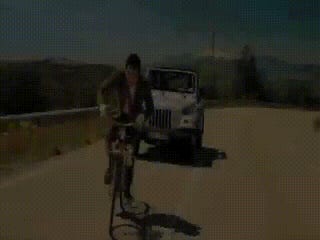 [Guttural villain laugh]. I'm actually OK with most of this.
Most of the traffic on campus is pedestrians/cyclists, so I don't mind the university making sacrifices on behalf of motorists, in order to improve things for the majority of students. Especially since "sacrifices" basically includes axing street parking in some areas to make room for paths, and building dedicated parking elsewhere... perhaps with some kind of shuttle service.
The majority of the "MASTER PLAN" seems to consist of beefing up existing bike paths, building some new ones, improving education (mandatory classes for freshmen, lol) and fixing crap like this:
---
I do have one problem, though, which comes in the form of Chapter 3, section 2, subsection A:
Reduce motor vehicle trips in the community and associated emissions by increasing mode shift toward bicycles.
It kind of scares me that they're actively trying to axe driving. Hopefully they don't resort to drastic measures. Improved engine/hybrid technology + more electric cars in the near future should help to mitigate the emissions issues they care so much about. But I guess that kind of benefit doesn't show up as tangibly when they have to present "sustainability quotas" or whatever to the state.
But overall, I like this. The bike paths undeniably need improvement. Also, the whole project *should* cost about $4M. Since it will take place over several years, this is quite literally cheaper than our losing football coach.