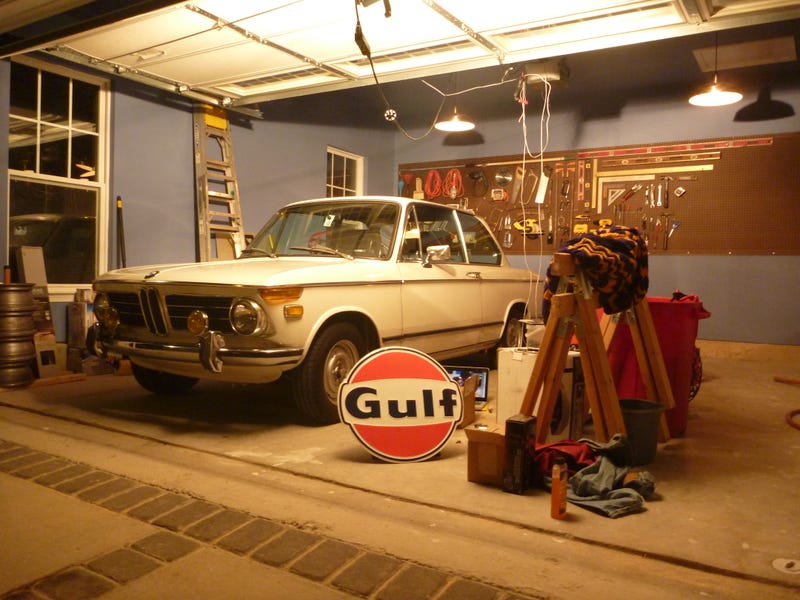 This past summer, along with working and moving to a new house, I set about making the garage I wanted on a budget. Before this summer I didn't have proper storage for my car. And after two years of ownership I owed it to her to make the best home possible. So, here it goes.
This was my canvas. A very standard 20x18 two car garage.
Bare concrete, unfinished drywall that was pretty rough, and two wooden shelves.
Notice the stupid boxes and shabby hose holder on the wall. That was first on my list to get rid of. More on that later.
And, we didn't even move in yet. Here's that mess.
Now, before I could do anything, I had to move most of the junque into the house. But, anyone that has ever moved knows this can take time. Lots of time. Anyway, here was my first project. I found it online and thought it was a good idea.
What I did was purchase six 11 gallon bins. Then, a sheet of decent plywood. Cut strips of 3" and 1" to construct I beams. Put them on the ceiling with 2.5" lag bolts right into the joists. It was rather simple and I made sure it could hold a great deal of weight by basically pulling the damn things down. Didn't budge. Usually I go mad with hardware and reenforce the shit out of things.
Finally, mom's car can fit in the garage with mine. And there's still a ton of shit hanging around. Now, onto the finishing of the walls.
I don't actually have any pictures of the process, but a coat of primer and two of paint along with a great deal of spackle and sanding. In this photo you can see the ceiling-hung extension cord, the new shop lights with vintage-looking bulbs I put in, and the new wall mounted shop vac.
The cable and internet boxes that were on this wall are now gone. I wired in a socket in the closet off to the right and rewired everything in there. You can see it hanging next to the breakers. After some spackle and paint, there's no evidence that they were ever there. Additionally, you can see I installed hooks, pegboard, and a bike pulley system thing.
Next was the pegboard. I wasn't that hard to put up, just framed the outside of boards and drilled it on the wall. The hard part is organizing things on the wall. To do it the way I wanted to I spent hours rearranging things.
Do I have enough putty knives??????
Next, I made a workbench. Rolls on 3" casters and is extremely sturdy. I put about 600 lbs of stuff and people on it and it was just fine.
The next project was the floor. And to save money I did it myself. If you are considering this get ready for hell. It took about 5 days and it sucked. First, the concrete that I have is not very solid and if you rub it hard enough you will get sand. Also had a few cracks that I filled. Spent two days of pressure-washing and sweeping. After a while I said fuck it and started rolling. I went with the Rustoleum garage kit. Both the color and the clear. First off, it won't hid anything. I thought it would, but it didn't. Second, those stupid flakes are a pain in the ass to spread. You don't know how much you have and the just fall in clumps. And, putting the paint down is a pain. But, it is the cheaper solution.
I know it's inhumane, but I hang my horses on the wall. Also put in $140 worth of wood blinds. The lady at Home Depot asked what room of the house they were going in. Her face was priceless when I told her it was for the garage.
Yep, that's about it. Have any questions? Comments? Suggestions? Critiques? Thanks for reading, here's a few extra random photos.
Heavenly. The place is paradise. Crabbing, fishing, and drinking.