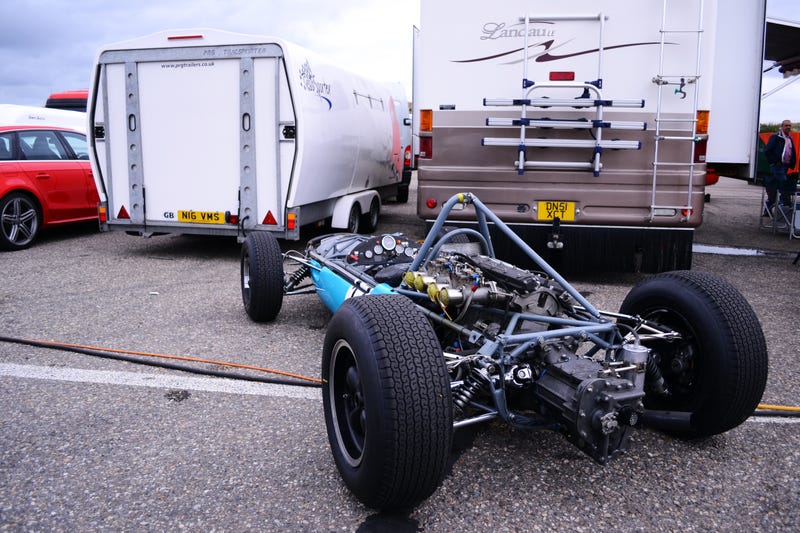 An event where your day starts with walking into the paddock and being greeted by a randomly parked, unattended, 50 years old Formula Junior car can only be a great one.
Welcome to the 2013 Historic Grand Prix at Zandvoort.
Where D-type Jags are parked unattended..

Where Alfa's are being polished..
And Historic F1 cars are being raced!

Our day started with the pre 1961 F1 cars on track. Among them a 1927 Bugatti Type 35C.
After the race the drivers came in towards Parc Fermé.
Time for a stroll down the paddock again. Found this F2 car which seemingly had a close encounter with the gravel trap.

Some Healey's being prepared for a race later on the day.
$kay, remember to breathe!
A Masarati 4c (the one without the freaky headlights)

Another F2 car. Just look at those pretty headers!
All of a sudden I heard a loud bang followed by a thundering engine sounds. After walking (read: running) towards it I found this M8F was the source of the eargasmic sounds.
Onward toward the back of the Pitboxes. Plenty of awesomeness to take in.

Look who's peeking out of the pitbox.

A bit later she came out to play.
Pretty sure it's a Lambo dude!

The pit transportation of the guys running the Lotus cars.

Little boy enjoying a Maserati.
Big boy enjoying a Masarati.

These things are really tiny in real life!
Time for some track action again!

A large and varied field of cars.
Some more $kaybait!

Some close racing going on!
A lap later.
A dab of Oppo.
Back to the paddock. Walking towards where the cars line up to drive out onto the track.
Now it was time for the main event!

There are few words that can describe the sound of a field of historic F1 cars from different era's thundering down the straight of a track.
And even though these are legendary historic cars, the drivers were pushing!
Luckily no serious damage to either the car or the driver.
All in all a truly amazing day!
I´ve got the chance to get up close and personal with cars I never dreamed of seeing in real life and got to enjoy seeing those same cars all out on the track.