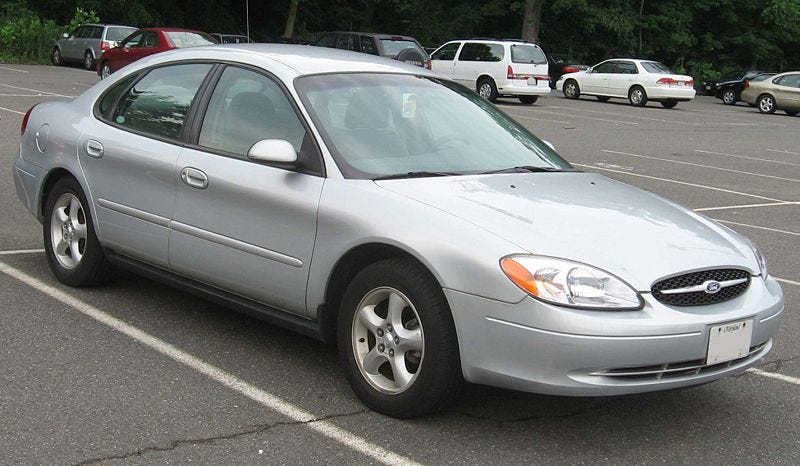 5. 2004 Ford Taurus SES. Technically I've only owned five cars so this is also the worst. That said I've been pretty lucky. Why does it earn the low spot. Well it's not particularly exciting. The engine was the exact same as the previous car I owned but this model was heavier. The styling is devicive at best. What it did do better than any other car I've owned is the cup holders. Two 44oz next to each other no problem. It was also smooth and comfortable. It did have a column shift so it was also a six seater. It held the road trip record for our family. Sold as part of a trade in.
4. 1995 Ford Taurus GL
This earns number four sadly in a low spot despite being my first car and a lot of nostalgia. It was fairly peppy with its 155 bhp but otherwise very 90s domestic. Transmission trouble at like 80k and then died a sad death in a 3 car pile up.
3. 2000 Nissan Sentra SE
This really embodied one of the last hurrah of the fun cheap Japanese cars. Fun to drive. Good on gas. Handled well. Sadly the least reliable of the bunch. Sold to some college student to die in Utah. RIP.
2. 2008 Pontiac G8 GT
On paper this should probably be in first but it isnt. Primarily because it's got a lot of features and it's heavy. It also feels a bit like "old" GM. With that said it's really roomy and smooth and fast. It handles well for its weight. It's been more expensive to maintain than I'd like. It's now got an LS3 cam and a dyno tune.
1. 2012 Ford Mustang GT
Im actually a simple man with simple needs. It doesn't get much simpler than this. Even the seats are manual. It's got a V8 and it's fast. It also handles great after I put in coil overs. Flowmasters for sound. 'Murica.