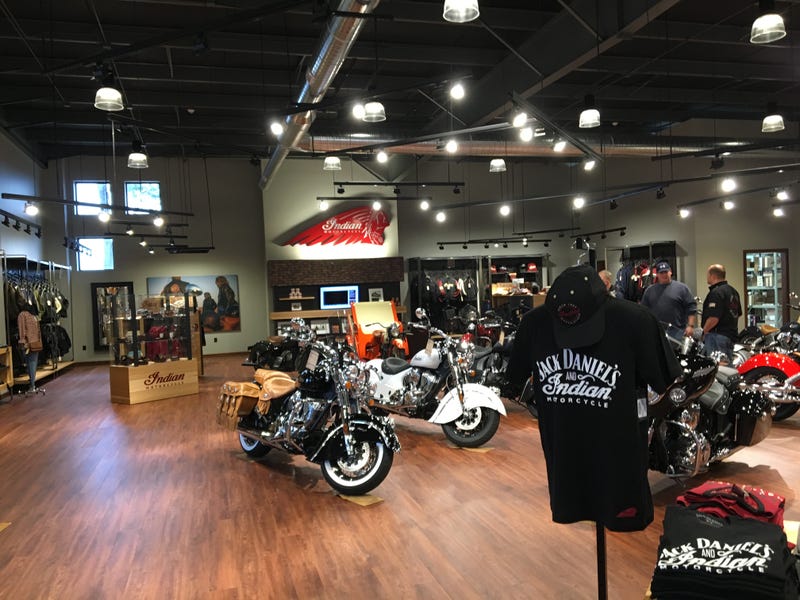 My hometown of Elkhart, Indiana is primarily known for 2 things: RV's and methamphetamine. Now however, we have an Indian dealership and while it may not change the areas addiction of emptying a weeks worth of excrement into a large tank and/or blowing themselves up trying to smoke the contents of said tank, it's still pretty darn cool.
The building was erected in such a location that one must drive past a Red Lobster, an Olive Garden, and then through the parking lot of a Texas Roadhouse to get to it, but the facility is nothing short of wonderful.
The showroom is, unsurprisingly, full of motorcycles ranging from brand new Scouts to a small collection of vintage bikes and even a few Harley Davidson's hiding shamefully in the corner.
I personally am not a motorcycle guy. I've never ridden and most likely never will but I was very excited to hear that Elkhart was getting an Indian dealer because even from the outside its hard to ignore the long and rich history of the brand. There's no denying that Indian produces a quality product that feels more special and more substantial than any Harley Davidson I've encountered.
Indian also has what is arguably the coolest merchandise available.
While my financial contributions to the new dealership will likely be limited to some Indian T-Shirts and possibly a sweatshirt, I hope the opening of this dealership encourages residents of the Elkhart area to stop buying meth and start buying Indian motorcycles. While both can be dangerous, screaming through the Pearly Gates on a Chief Dark Horse clad in Indian branded leathers is better than aging 50 years in 2 months and dying in a fiery explosion with no fingernails.