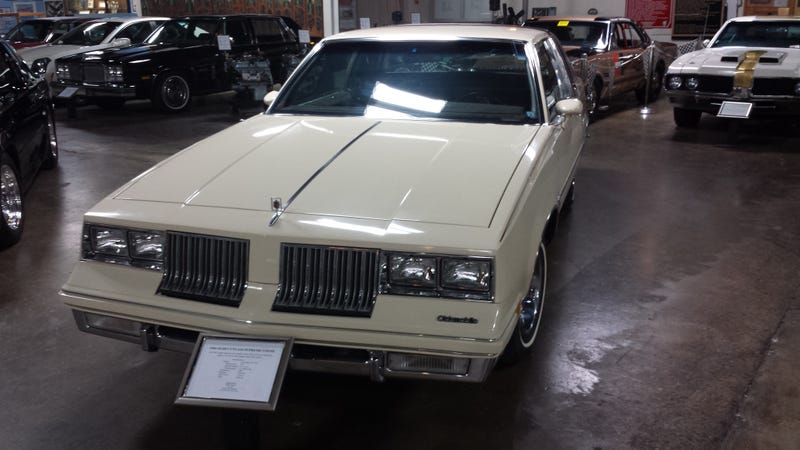 Two things: 1) crappy cell phone pictures, and 2) 1980s-1990s engine porn ahead.
Dozens of cars from the entire history of the company, but really, I only cared about the ones I grew up around.
My first memory was riding in the back of my dad's Cutlass, of which the museum (in Lansing, MI) had an almost identical model (top image).
This was the only G-Body I've ever heard of with a manual transmission.
My wife couldn't understand why this Cutlass was here, as she thought it was hideous. Yeah, well, she hasn't owned four W-Bodies in her lifetime. I also pointed out the 2.8L under the hood was essentially the same one that powers my S-10 at home. "Yeah, that's even worse, then."
Now, there were lots of cars, but there were nearly as many engines scattered around the museum. This one was missing a placard, but I'm guessing it's the last 3800 Series I to roll off the line.
This was the first engine I saw upon entering, and I was so geeked I had her take a picture of me next to it. The last 2.4l DOHC produced! She didn't get why I was hopping up and down, begging her to take a picture of me next to it. Well, she's never bled all over the downpipe trying to change an oxygen sensor on one in the dorm parking lot in a snowstorm. This was the engine that earned me my only speeding ticket (granted, it was a 30 in a 25 mph zone, but... shut up).
Another shot of the 2.4l.
Speaking of which, there were almost a dozen variants of the Quad 4 laying about (being an Olds-developed motor), from development mules to racing variants to the Aerotech engines.
This one was interesting. I didn't know they based the Atlas engines off the Quad 4. I mentioned to her this was the grandfather of the motor that's in our Envoy. She asked when we could leave.
There were also V6s and V8s from the era...
First-gen L67.
I don't understand the placard. This was never in the Grand Prix. The 97+ models got the Series II, but the 1988-1996 cars had the LQ1 (or the 3.1 Turbo) at best. I don't mean to pick nits or be a smartass, but this is a museum.
This was by no means all they have at the museum. On the contrary, it's a rather large building with dozens of cars and engines (and lawnmowers. Seriously.) from the past century-plus. I was simply transfixed on the hardware that I grew up around. If you're ever in the area, I highly suggest paying a visit. Admission was six dollars, and it's a block away from the Radisson Hotel and a few more from the capitol. Well worth seeing.