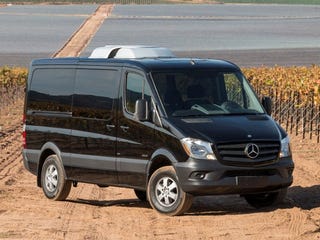 Was a Mercedes Sprinter.

When 2016 Mercedes S-Class popped up as the vehicle we were riding home in, I was nearly jumping with joy. My friend didn't really care.
She was pretty sketched out when a gigantic van pulled up in front of the mall (you know, two teens chillin' outside Pottery Barn at 10:45 PM on a Saturday night), instead of a German luxobarge.
Overall, though, the Sprinter was pretty nice. Super smooth ride, lots of space to do things in, actually quite powerful for a four-cylinder diesel in a van that big. Our driver said he averages 20 MPG, too.
I'd rate the Sprinter a solid 420/69, which is a decent score considering what it was. Probably the best Uber I have ever had.
How's Oppo's night. I broke my tooth on a pizza so I have to figure that out come Monday.