Celebrating my mother in law's 75th this weekend, which means an overnight trip to Oakland. She is a very sweet lady, but I am not fond of a couple of my wife's sisters, and I'd rather be home working on the Vespa. Parts are on the way to replace the front brake rotor and put new shoes on the rear drum. I am going to keep wrenching on this Vespa so I can get better at it and start tackling my own repairs on the Sunchaser.
Here is a really nice ET4. Do you like this clean look better than my ratty. scratched and dented, concert-sticker covered look? Be honest.
I have been eyeballing a Mallossi cylinder kit that would take me from 150cc to 190cc, and they claim pretty significant increase in hp, torque, and top end speed.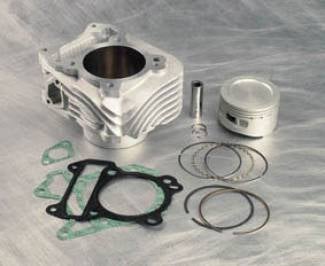 What do you think Oppo?
Good idea, too ambitious for me, or just plain dumb?
I am not sure what I am trying to accomplish with the Vespa other than having fun making it mine.