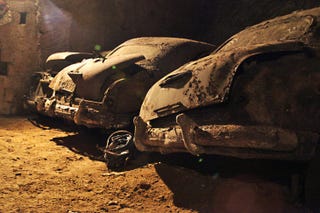 Naples, Italy's third largest city and the eighth largest in the EU, is a place with a lot of history. In fact, it's one of the oldest continuously inhabited places in the world. Remains of Greek settlements from the bronze-age can be found in the area, and the city later played a vital role in merging Greek culture into Roman society. With such a rich history it's easy to see how stuff that's a bit newer (let's say around 1850) can get a little lost for a while.
There has been Tuff mining in the area for about 2000 years, so the rocks under Naples are full of shafts and cavities which might influence the structural integrity of some buildings. The municipal government therefore got the help of geologist Gianluca Minin, who set out to explore these ancient shafts. 40 meters below ground, he came upon a large tunnel, part of a system of aqueducts built in 1853 under Ferdinand II. that housed several old cars and other vehicles that had become almost fossilised other time.
So what happened? During the war these tunnels were used as bomb shelters, and after the war until the '70s the local police used it as storage space. All of these cars came into conflict with the law at some point, they were stored there as evidence. Some had been in a simple accident, others had been used to smuggle cigarettes or might have even be affiliated with a certain "honourable society". These old cars in varying states of decay transport a rather morbid feeling. It's almost like being in some sort of tomb, it makes you feel like you have to talk in a hushed, whispery voice.
These three, from left to right, are a Fiat 1100-103 and two Fiat 1400s. The one on the right is caved in on the driver's side and the rear bench is missing. Cigarette smuggling that lead to a police chase that went horribly wrong? We can only guess.
This is what a Fiat 1400 (1951-58) looked like when new.
There's also this green Autobianchi Bianchina Panoramica which belonged to department store in Naples. It somehow didn't turn into the colour of the tuff stone surrounding it, like most of the other vehicles.
This being in Italy, there has to be a fleet of Vespas, of course. Note the missing wheels! Did someone sneak in there at some point in time to harvest some spare parts before it is too late? Or did the police bust a network of thieves who wanted to part them out, but got caught red handed?
Little known fact: Although Italy changed from driving on the left side of the road to driving on the right side in 1924, most cars stayed RHD until 1932, and a lot of cars could be had in RHD on request even later, as some drivers felt more secure in a RHD car on winding mountain roads.
Some of the cars have been removed from the tunnel to be fully restored, while others are clearly beyond saving. All the info that I could find on this matter is a bit dated. So if any of you knows what/if something happend since then please share!
Photo credit: http://www.autobild.de/klassik/artike…