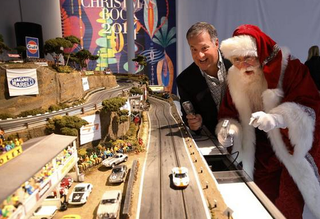 Hey billionaires! Instead of stashing that quarter-million from your secret stock holdings in your Cayman Islands account this year, why don't you put it towards Neiman Marcus' new Christmas catalog offering - an incredibly detailed 1:32 slot car replica of your favorite real-life race track.
According to this article, three of you already have! Congratulations. I hope you let us all play with it. You'll see the listing mentions Circuit de la Sarthe, the Ring, and Laguna Seca, but I know that picture isn't any of those (don't follow Formula One so not sure what it is - jump in if you know) so I'm betting that given the price and the 6-month build time you could get them to do pretty much anything.
These aren't your grandfather's tracks, either - the level of detail is pretty mind-blowing, and the setup is completed by a system of cameras that can broadcast your slot car battles on large screens like a real race. With a toy like this, wouldn't you want to invite all your friends over for some brandy and hobnobbing? Neiman Marcus has you covered - your purchase comes with an inaugural "race night party" with a guaranteed appearance by "racing legends such as Vic Elford and David Hobbs," which probably means it won't be either of them. Oh, and shipping and white glove installation are not included! What a fucking deal. But if I'm paying extra, those guys better actually be wearing white gloves. That's all I'm saying.
Also for sale - a 100th anniversary edition of the ugliest car that Maserati makes for $95,000. Only 100 though! Clever. Company man Peter Grady predicts they'll sell out in the first hour.