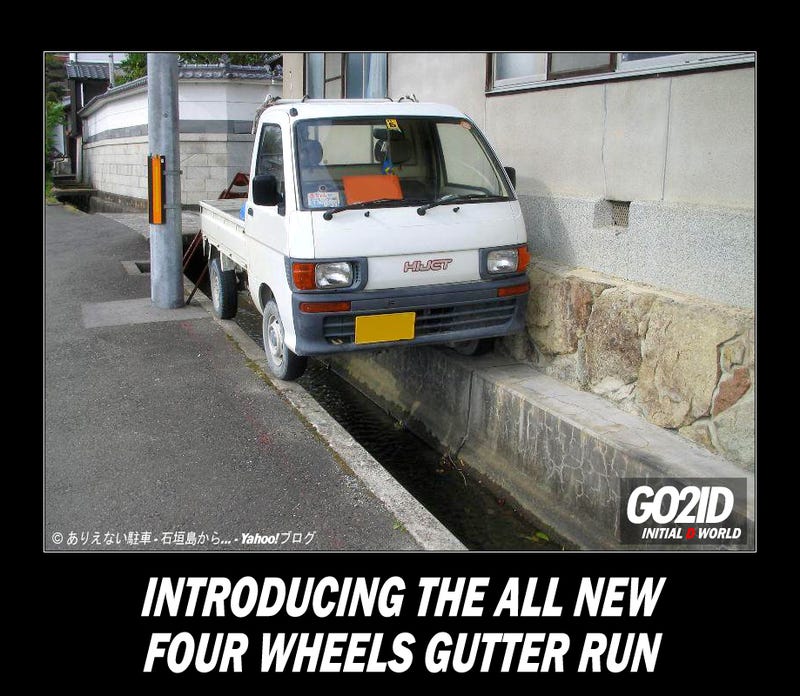 I like Initial D, Mighty Car Mods, Ken Block and all the likes of it, but there's a limit to how much you like it IMO. Let's take my friend as an example who is a super fanboy of these. I went to F1 with him last year. I just wanted to enjoy the race. He would talk non stop about the racing lines of the drivers , how he would take the lines and used Initial D as an example...hold on a sec now. Because a Manga/anime looks realistic, it doesn't mean that it fully is and that you need to treat it as a bible! And if you're so better, why aren't you a race driver? Better yet, why the hell you found my sim racing games extremely difficult with my full racing rig and you find NFS being a better racing game with a PS controller? Even better, why his subby RS got his engine blown up after one year of your use, got all the fenders banged up and his mirror broken? Initial D drifting. He copied Initial D and hit the guardrail to improve his time (as demonstrated multiple times by some opponents in fifth stage)! WHY THE HELL DO YOU EVEN NEED TO DO THAT???? AND THERE'S NO STOP CLOCK NO WHERE STOP PRETENDING!
I went to the Paul Walker event with him and thought: "Ah there's only a drag strip, no bullshit will happen", how wrong was I. I was following him to the event. First he took corners like an idiot like he was Takumi by swing from left to right to simulate a "drift" and then going in the gravel instead of the road to simulate a gutter run. Then as you know he got his car towed due to an expired driver's license. I thought, nice! No more Initial D bullshit. But no...I got into the drag strip and each time he was the super excited guy that yelled "CHOP HIM!!!!!" à la MCM apparently. Then I gave him a run in the passenger seat. He kept yelling CHOPPPED!!!!! CHOPPPEEEDD!!!!! like an idiot. Everyone was looking at us and I looked like one too because of that...
I bet if that was a drift event, I would get a taste of both Ken Block and Initial D fanboyism....