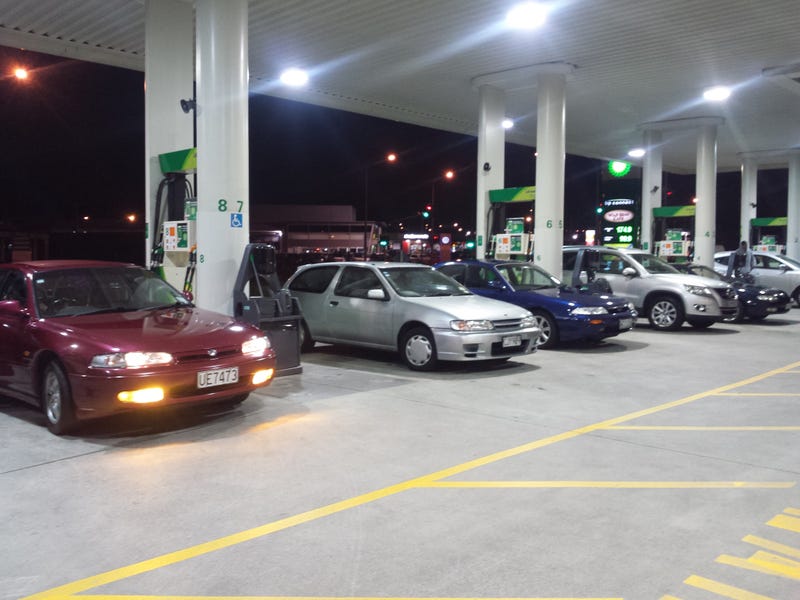 Late night things
Our group of friends, 2 of whom are total non-car people, get bored some (read:most) nights. Most times this ends up resulting in going to maccas at 11pm, the BP across the road where a friend works at midnight, sometimes ending up at the maccas at the airport 45min away or the self-wash place down the road. Photo describes cars taken to washworld one night, silver Tiguan was the one I had for the night.
New Engine!
The good ol' Mazda MX-6 has made progress, in the sense that the rear head gasket has progressed out the exhaust pipe. It has mazdaspeed shocks and springs though so thats like #low and cred right?
The engine here is a KL-ZE to replace the original KL-DE. the 'ZE had 10.1:1 compression pistons (vs 9.2:1), a better head design, better intake manifold, tune and hotter cams. Rated for a nice 200hp at the crank vs the 164 of the DE.
This is an old photo from last year when I finished high school.. Gotta say, learning to drive with a total beater is probably a lot better for teaching 'abstract' driving skills and basic mechanical skills. My friend got out of his car through the passengers side, and I exited mine out the window. If you look closely, you can see I had a full racetech fixed bucket seat at the time which meant I could not get from the passengers side to the drivers side in the afternoon, which resulted in a very interesting trick of driving an auto from the passengers seat.