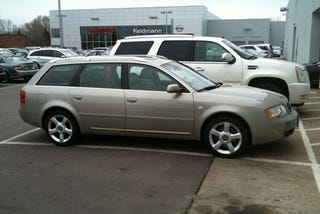 This is the new family member. My mother just got a GREAT deal on a 2004 A6 wagon quattro. She bought for like $4,000 and it's got 95,000 miles on it. I don't know if they offered different engines in the A6 wagon, but this one is the 3.0.
We bought it from my grandmother who had a dealership do meticulous service on it. After browsing the service records, I was delighted to find a recent timing belt replacement.
And then the damn thing started leaking fluid all over my parents' driveway. We took it to the dealership and they told us there are three issues.
1. Prop shaft (what dealership called it) seal is leaking, so it was transmission fluid that was staining the driveway every night. Grandmother had a gravel driveway, so it's an excusable oversight.
2. Rear brakes are "on their way out and need replacing soon."
3. Power steering fluid is "dirty"
#1 needed to be done, I wouldn't let my mother drive around leaking transmission fluid. It was done, to the tune of $700.... They said three hours in labor, so a seal costing about $400 is pretty surprising...
#2 seemed like bullshit, but I may take a look at the brakes soon. A private mechanic (or even I) can replace a set of brake pads. the dealership service center wanted $500. No thanks.
#3 seemed like TOTAL bullshit. Power steering fluid is dirty? How does it get dirty? It's a closed-loop system if I understand correctly— no gaskets to let other fluids in, unlike a bad head gasket that might let oil get into the coolant and vice-versa. This seemed like they were straight up trying to rob my mother. They wanted $450 to flush the power steering system and replace the fluid. NO THANKS.
Now, we don't have a local private mechanic we can trust with this car. I can't even trust the local mechanic with my Miata after they put the wrong oil in my engine.
Here's the big question. We just bought the car, we haven't sunk much money into it yet, and we have a back-up car because we haven't sold my mother's old car yet. Should I tell my mother to sell the Audi? What kind of reliability issues do the 3.0's have, if any? My parents both want to get rid of the car, with such and expensive repair needed directly after buying the thing, they just see a money pit. Does anyone have a 3.0 Audi that lasted the long haul? Even with the new timing belt is this thing still going to be a money pit?