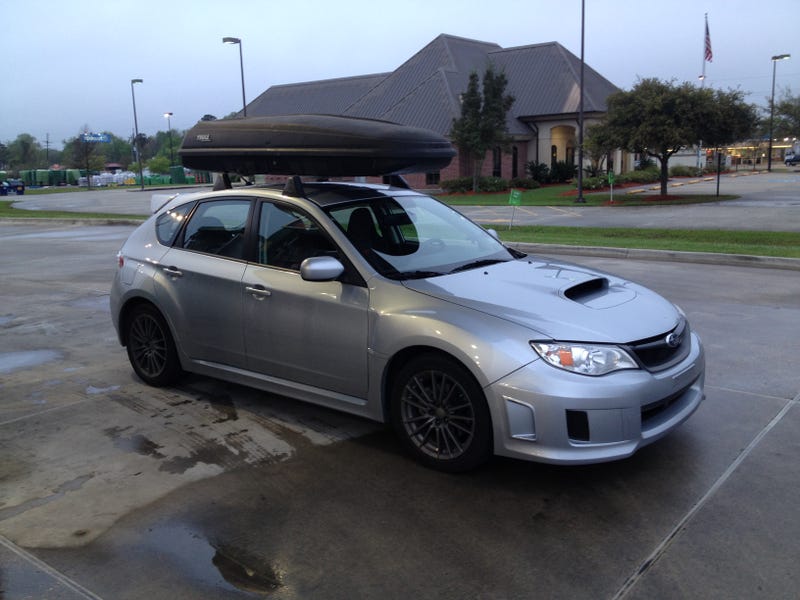 I finally found a great deal on a new hat that I couldn't pass up. As cargo boxes go, it isn't the smallest or the biggest, but it fits well enough on the OEM cargo bars and provides plenty of storage space up top. I discovered that it does create some wind noise at freeway speeds, but it is only noticeable with the radio off. Although it seems like it hangs way off the front, I can't see it from the driver's seat without leaning forward. It does overlap the back hatch, making it hard to open.
The only thing I really don't like is the mounting system. It uses carriage bolts, mounting plates, and wingnuts. The initial setup was difficult and although they are quick-release (loosen one of the wingnuts and slide the bottom plate forward to release), the bottom plate drops easily and can scratch the paint.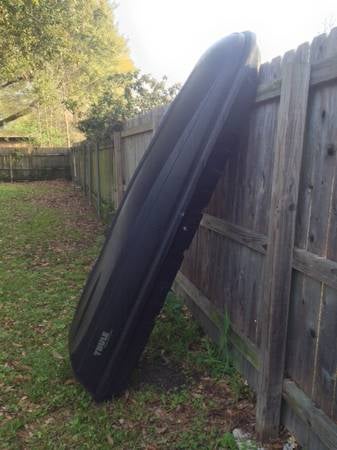 It is old and is showing some storage wear. I don't think it was stored outside, but it was pretty filthy when I picked it up. I scrubbed it when I got home, but there are some white spots that look like paint drips and scrapes from being stored on end.
Overall, I'm really happy with it. I'm thinking about drilling some new mounting holes so it can be mounted further forward and eliminate overlap with the hatch. I've thought about buying some of the latest mounting hardware to make it easier to mount to the car. I'm not sure it would be worth the effort.
The biggest change I am contemplating is paint. It seems to be a popular on Audis and Porches, but the WRX crowd seems to stick with a more utilitarian look. Maybe I'll stick with flat black to hide the wear, but a sharkbox caught my eye. My wife (gotta love her) suggested FLAMES!