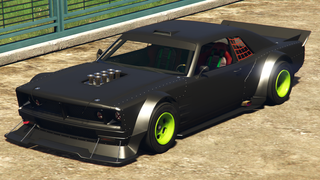 Pretty much like the Finances & Felony update with the X80 Proto, 811, and Seven 70, it seems that Rockstar are delaying the release of other cars that weren't featured in the announcement trailer.
(apart from the Drift Tampa above which was shortly seen in that trailer)
Yes, as you can tell, the new Tampa variant is based on Ken Block's Hoonicorn!
Another truck is coming, in a form of a Toyota Tundra! It comes with a covered bed!
Weirdly though, its manufacturer is Vapid, not Karin, which I kinda understand considering they wanted to use the Contender moniker again.
Fan of those huge Dakar trucks?
In case you've been around in the GTA San Andreas days, then your guesses are right that this is called the MTL Dune!
And, of course, that cargo area ain't left barren!
However, if you're looking for something more opulent and luxurious, then here comes a new Ocelot!
The Lynx is latest successor to the least-known Jugular E.
Looks like the Massacro has someone to play with!
Expect these cars to be announced in the next coming weeks. Until then, PC modders will find a way to bring them onto single player.