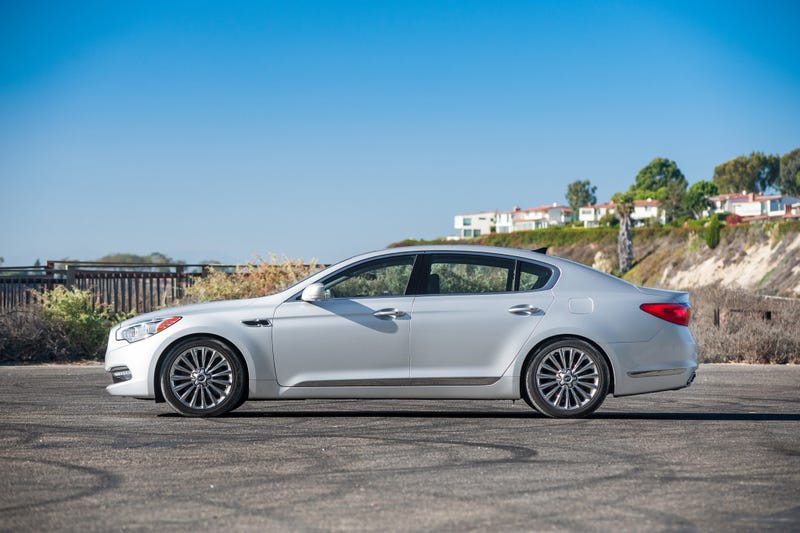 There were 455 K900s sold in the US last year. For comparison, Bentley sold 1,152 Bentaygas and McLaren sold 1,110 cars in the Land of the Free and Home of the Whopper. Though presumed dead after skipping the 2018 model year, the US will be getting an all new K900 for 2019.
This 2nd generation Grand Amanti will likely make its world debut in the US during late March or early April. Here's a spy picture of the new interior:
The current interior:
But didn't the K900 come out just 4 years ago? Nope, the current K9 came out in 2012. We got it in the US as a mascot for all the sports Kia sponsors and to distract everyone from the rising price points across the rest of the lineup. Remember that 10 years ago Kia's flagship Amanti, the car preparing the US for premium Kia models, was pretty much fully-loaded at under $30,000. Today you can option a $16,000 Kia Soul to that same price point.
A nearly $70,000 car with a Kia badge was a complete failure in sales but an instrumental part in moving Kia from a cost brand to a value brand in the US. We'll talk more about mainstream branding soon.
The 2nd generation K900 will likely keep its name since Kia has a tendency to introduce a potential new designation on a concept car prior to the production car...even if the two don't really relate.
Kia GT4 Stinger Concept
(This is likely coming as a sibling to the Hyundai N sportscar that was just confirmed).
Kia Niro Concept
I'm pretty sure the architecture of the new Sephia Supremacy is roughly the same as the old car outside of whatever could be done in order to increase torsional stiffness and an appreciation for kinematics, elastokinematics, or whatever that engineery stuff is you all know about when it comes to cars driving well. I'm just a branding man.
The Tau V8 should continue into 2020, the 3.3t will be the new engine offering, and AWD will become available which should see annual Canadian sales skyrocket from 7 to 37.