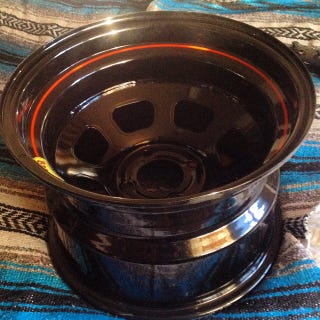 Ok some of you may know I've been pondering the thought of selling the Datassun. This car has been the most exciting car I've ever driven and gets as much attention from middle aged men as a 18 year old girls with daddy problems.
Either way we tend to go fast in straight lines down here in Texas so I'll be moving on (if someone picks up the car) As we all know the datsun came with IRS (independent rear suspension) which is great for handling purposes but not the most sturdy under high power. Seeing how I want to go Turbo LS and see if I can't run sub 10 second 1/4 miles. This is not the car to do it in. I don't want to ruin a perfectly good car by essentially making it a mustang by welding in a 8.8 live axle rear end and losing the great handling the car is known for .
With that said what car guy isn't ALWAYS buying car parts.. So now I've got brand new 15x10 -28 offset Bassett Racing Wheels. Yes they were cheap but they will do the job and I'll be asking for your help later finding tires for these wheels oppo.
My main goal would be to find a roller with a roll cage , and overall chassis that's ready to go 9's or even 8's in the 1/4 without costing me thousands in fab work. While also finding a truck to pull this race car with. I'm confident that if I get what I want for the Datassun (12k) I'll be able to buy the truck and roller no problem. The plan at that point would be to put a single 88mm in front of a 6.0 make a thousand and go 8's ... We'll see oppo ... We'll see ...