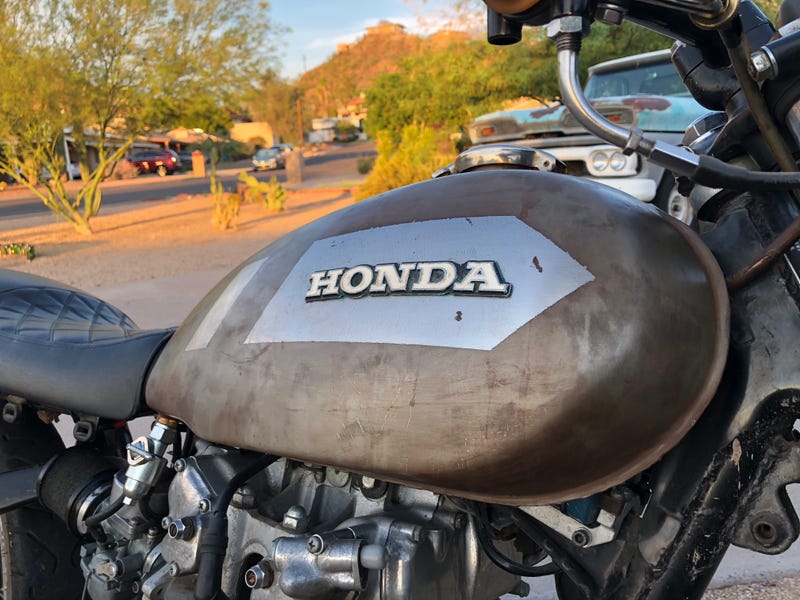 I've been working on cleaning up my fuel system over the last few months. In the process of cleaning rust out of the tank I ended up pouring fuel all over my paint job. The bike definitely has a rat rod aesthetic to it, so I wasn't too worried. Today I got a wild hair up my ass and decided to clear away the teal paint using more gasoline, giving it a two-tone steel finish.
I really liked the teal paint, but I think this works too. I also got around to installing a new petcock. I foolishly replaced the original with a crappy non-Japanese made one a few years ago. It started leaking so I ordered a brand new Japanese made petcock from Common Motor Collective for $30. This new one feels much higher quality than the crap one it replaced. Of course once I had everything together the fuel line split. Thankfully I had some Amazon IV tubing er... fuel line sitting in my work room.

I had previously been experiencing some wonky throttle response while at low RPMs. This bike is a '73 Honda CL450. The 450 is an air cooled, DOHC I2 utilizing torsion bars in place of valve springs. Some say the 450 was Honda's attempt at building a Ducati. For anyone accustomed to vintage motorbikes, this is not a compliment. I chalked the choppy throttle up to my open exhaust, pod filters and batteryless ignition system. Not a good combo for easy cruising on an already finicky powerplant. When I had my carbs apart I noticed one of the slides was sticking. I used super fine grit sand paper to smooth it out and lubed it up with a bit of oil. It did the trick and she's now purring like a kitten through the rev range. Having sat for months after having the whole fuel system removed, this badass came to life after a few kicks. I couldn't believe it.
This bike is a fucking beast. After lapping her around the neighborhood a few times it was time to put her to bed. She needs a new set of rubbers before she starts DD duty in the Fall, Winter and Spring, but she's idling and revving like a champ. Some braps for you time. This vid was taken after thirty minutes of riding in 110ish temps.