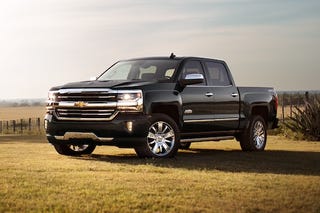 Having never owned a truck, I have decided to dive into one feet first. We are now looking at brand new trucks that can tow 10k lbs comfortably, so essentially any well equipped 1/2 ton. We plan on buying the truck and shortly after buying a travel trailer.
Initial thoughts: wow, these things have gotten expensive. They also offer more luxury features than my gussied up Nissan (Q50 3.0t). Ventilated seats, android auto, radar cruise with stop and go. Actual leather that's soft and appears to be high quality. They aren't even painfully slow to 60. Some of the stuff we've looked even traps over 100 in the quarter.
It's going to be very very very weird to be without a car for a little. The plan will be to trade in the Infiniti because we don't need two new cars right now. At least I'm not upside down on it.
Happy to hear any horror stories or words of advice from anyone with a relatively new truck. The only piece that has caused some frustration is understanding all of the promotions that are offered.
I hope this vehicle lasts longer than the last 3 cars at least.
Edit: the trailer will likely be under 8k lbs wet. I should also note that my significant other wants a truck as her daily and that I am fond of trucks in general too. We would likely get a truck in the next year regardless of the travel trailer plan, but we are thinking we will push up those plans to the very near future to pull a trailer soon.