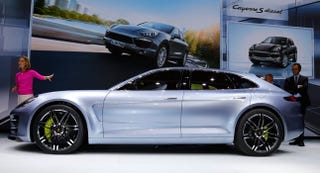 When the second-generation Porsche Panamera launches sometime by mid-decade it will use a common platform with the third-generation Bentley Continental family.
According to a report from Edmunds, the 2016 Porsche Panamera will use a special version of VW Group's front-engine rear-wheel-drive MSB body architecture. The next-generation Panamera, which is expected to be largely influenced by thePanamera Sport Turismo Concept (pictured above and below) that was revealed last year at the Paris auto show, will keep the current car's layout. This means it will continue to have four low-mounted seats and a central tunnel running through the cockpit.
The report also cites insiders as saying that both Porsche and Bentley wanted a different platform setup than the one used by Audi's range-topping sedans since the two upscale brands have different dynamic requirements.
The highlight of the MSB platform for the Panamera and Continental is that the drivetrain is mounted close to the front bulkhead and well inside the car's wheelbase, which guarantees a more balanced handling, especially at high speeds. To put this into perspective, the powertrain of the Audi A8 is mounted well forward. This will be possible due to the modularity of the new MSB platform that will allow for these variations.
The new architecture will be made of aluminum and high-strength steels, in order to comply with crash regulations. The all-new Panamera will be slightly lighter than the current model, which recently received its first facelift. It will also share more electronic components and sub-systems with other VW models, now that the Porsche brand is officially under the umbrella of Europe's top carmaker.
As for the engines, the Panamera will have a similar range of V6 gasoline and diesel units, V8s and plug-in hybrid drivetrain. The hybrid is likely to ditch the Audi V6 gasoline engine and use a new Porsche turbocharged V6.