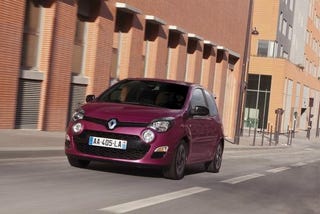 According to Automotive News Europe, the next Renault Twingo will share underpinnings with an upcoming Smart ForFour four-door subcompact. Both will be ... *gasp* rear-wheel-driven!
The move is supposed to push the Twingo slightly upmarket and should also help save development costs by developing the car under the terms of the alliance between Daimler and Renault-Nissan. The French manufacturer will reportedly build the Twingo as well as petrol- and battery-powered versions of the next Smart ForFour in Slovenia.
It's the second attempt to bring a four-door Smart car to the markets – the first-gen ForFour subcompact car (while a more appealing ownership proposition than the standard ForTwo imho) was cancelled after a relatively short two years due to poor sales performances.
The Smart ForFour and, unsurprisingly, the Renault Twingo, are scheduled to be launched in 2014, a year later than initially communicated by both companies. They wouldn't comment on what caused the delay.
Sauce: europe.autonews.com