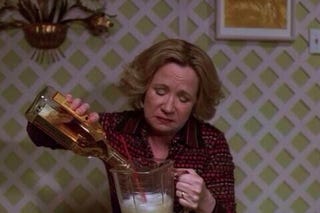 Pictured: me after last week's game. (FYI, the first paragraph of these is always my thoughts and rantings about my team, so feel free to skip past it if you don't care. Or go in the comments and talk shit to me about them, it's all good.)
I drink because I recognize this Broncos team. They look just like the teams they fielded right after John Elway retired, and the teams after Jake Plummer was unceremoniously dumped. In the few years between when Elway left and they signed Jake Plummer, the Broncos made the playoffs once and were crushed by the Ravens during their first Super Bowl season. (Worse, Shannon Sharpe was on that Ravens team and he killed the Broncos in that game.) Then after Shanahan pulled the shit with benching Plummer for Jay Cutler, they went right back into the land of 9-7 and missing the playoffs for five more years. Oh sure, the current incarnation of the Broncos could get it together enough to sneak into the playoffs and be one-and-done, but I think they'll lose against the Pats and then stumble through the rest of the schedule. If anyone saw the debacle last week, you saw players that have given up on defense, terrible play-calling on offense, and all around bad coaching. I don't know if it's all on coach Joseph, but I know the coordinators are stinking it up for sure. And it's pretty clear the answer at QB is not on this roster. They need to look into free agency, especially as Elway has just not been good enough in drafts. It feels like the championship window has definitely closed for now.
So, this abominable season lurches forward into week 10. More injuries, The Weeknd Ezekiel Elliott is suspended again, and every team seems to be hovering in the 3-5/5-3 area. Are we going to get to see any good games here this week? Let's check... CBS has Steelers at Colts in the early game, so not there. No PM game, because fuck you football fans. Over on FOX, we might have a winner in the early game because we get the Saints at the Bills. I feel weird saying that. In the PM game we get the friggin' Cowboys again because BLAH BLAH BLAH AMURICA'S TEAM BLAH BLAH. I hate the Cowboys. Go Falcons. I'm sorry the rest of the country is stuck watching the Patriots at Broncos tonight. If it goes like the past few weeks I'll end up turning it off at halftime again. Then on MNF it'll be Dolphins at Panthers, which according to the teams' W-L records should be good on paper, but it'll probably suck.
The rest of the games are Green Bay at Chicago, and I'm taking the Bears in that one. GB is toast without Rodgers and it's a bummer. I kind of wish we got the Browns-Lions game, because the last time the Browns went to Detroit in 2009 it was legitimately the game of the season and virtually nobody saw it. Lions will win this time, too. Chargers at Jags would be a better game for us to see than Steelers-Colts, CBS. Get it together already. I think the Jags will probably force Rivers to throw picks and we'll get to see him mouth all those substitute curse words he uses. NYJ at Tampa... the Jets should win this one, but it feels like the Bucs might snag a win here. The Bengals are awful and will probably lose to the Titans. Vikings at Redskins, I'm not sure how that will go. Vikings maybe? Houston is going to have a rough time against the Rams. I'm interested to see how many people show up. Even if it's 70k plus it's still gonna look bad. They need to get that stadium done but quick. NYG at SF will be so bad that I refuse to spell out their team names.
So... anyone else as down as I am about this season? Come on in and talk about it and I'll pour you a drink.
*looks in liquor cabinet*
Hope you like Goldschlager, amaretto, or bacon-flavored vodka because that's all we have left. (None of those are mine BTW.)