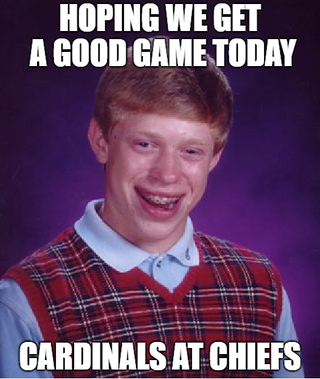 The Broncos are on a bye this week, so I'm spared the agony of watching terrible footb- (checks TV listings)... DAMN IT. You know what, NFL? Eat me.

I'm confused by the NFL's TV coverage nowadays. ESPN's website shows this Cards-Chiefs game should be on Fox, but our local CBS affiliate lists it as the early game today. Traditionally, in inter-conference games the conference of the away team dictated which network showed the game. This should be on Fox. Instead on Fox we get the Saints at the Bengals, which fits the paradigm (and probably the game I'll watch). But then late on CBS we get a full NFC matchup, the Seahawks at the Rams... and while we get no late Fox game, one of the late games assigned to Fox is... Chargers at Raiders? I give up. Also, the NFL will never stop trying to force feed us the damn Cowboys in prime time, so SNF is Cowboys-Eagles. Monday will be the Niners hosting the Giants, so we probably see Nick Mullins put up more Pro Bowl numbers I guess?
The rest:
Lions at Bears: In honor of this Deadspin article, I think Matt Patricia's nickname should now be Old Dirty Laundry.
Falcons at Browns: I'm still pulling for the Browns, mostly because I hope the Broncos get a better draft pick then them for once.
Pats at Titans: Hey CBS, even if the Pats are probably locks to win this game, it's still better than the dreck you're about to show us this morning.
Jags at Colts: CBS, this is also better.
Bills at Jets: But not this one, CBS. (Fast forward to 1 PM MST in Denver when CBS leaves the Chiefs' beatdown of the Cards to cut to this game.)
Redskins at Bucs: This is a game that is happening today. That is the extent of my interest. (mumbling to myself: Alex Smith. We should have tried to get Alex Smith instead of Keenum.)
Dolphins at Packers: Hey, look, it's a game the Packers could win! Dolphins by six.
I don't know, I may not bother watching much today. It's snowing and I want to see how my new tires handle it, and I have Sirius so I can listen to whatever game I want. Or the 80's on 8 countdown. This week it's 1981!