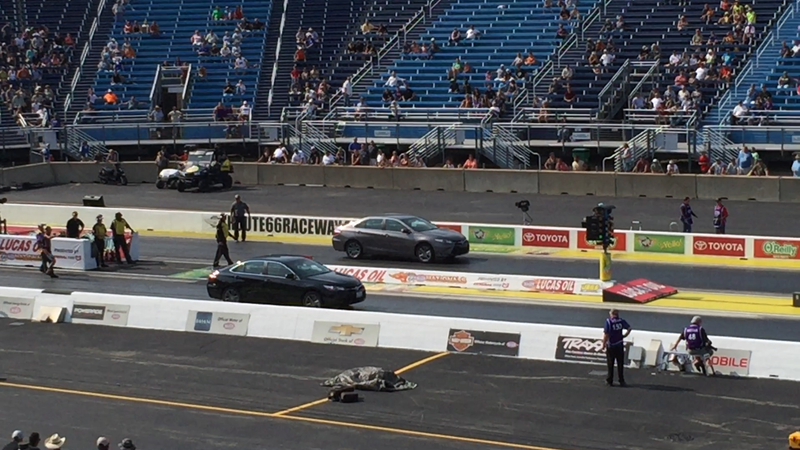 This year, as I have for many years now, I visited the Lucas Oil Route 66 NHRA Nationals, and I still haven't gotten used to it.

You may remember last year I did my best to try to describe just how ungodly loud Top Fuel Funny Cars are to common folk by pointing my camera at a glass of iced tea. This year however, I decided my approach should be a little different. See there is more to an NHRA event than just the noise. I know this is much like saying there is more to a Hellcat Challenger than the engine. The engine obviously trumps all other aspects. It's an all consuming thing, but that's not to say that all the other aspects are not good.
I'll be the first person to admit that I can't really be bothered to watch NHRA on television. The cut down rebroadcasts on ESPN simply do not do justice to these forces of nature. Not only do you, the TV watcher, miss out on the biblical amount of noise produced by the cars, but you also miss out on most of the fun off track. Much like how watching NFL doesn't show you the tailgating and other festivities associated with attending a sporting event, the NHRA coverage on television barely scratches the surface of what goes on. You also miss all the cool equipment required to ensure the racing surface is as grippy as contact adhesive.
Between the classes, 2 very large tractors roll out onto the track armed with rotating brushes on the front of them and 4 drag radials being chalked along the surface behind. This leaves a trail of rubber on top of the already rubber coated surface so that the rubber tires can grip easier. The end result of all this rubber is quarter mile times under 4 seconds, and myself blowing the equivalent of half a Goodyear out of my nose after being at the track just a few hours.
Speaking of drag radials, this is how they are transported to the crews after being mounted and balanced. I'm thinking about picking up a set for my Merkur.
Another thing you don't get to do when watching on television is explore the pit area. Every ticket into an NHRA event also serves as a pit pass meaning anybody can walk around and see what their favorite driver is up to.
This year I got an autograph from Antron Brown, last year I had a brief conversation with Terry McMillen, and the year before that I had a brush with NHRA royalty as John Force signed my hat.
Try doing that in F1. Or NASCAR. Or IndyCar.
Because each driver is only really driving for only a few seconds at each event, they have much more time to be social with fans then a driver that has to be racing for several hours.
There's more to do than just
During the first race between Nitro cars, one of the cars decided it no longer liked holding oil so it dumped it all down the track initiating a 20 minute cleanup session. The men and women in charge of cleaning the mess obviously came prepared as throughout the 20 minutes they implored the usage of some leaf blowers, a Zamboni-looking vehicle which left behind what appeared to be some sort of detergent, a torch, a fan/blower that resembled a lawn mower, and they topped off the whole ensemble with a fresh coat of rubber courtesy of the tractors.
Like most sporting type events that pull large crowds, the prices for everything were outrageous. A bottle of water? That'll be $4. Want a beer? That'll be $12. Both the over-buttered and under-salted popcorn and the pretzel where the salt was actually the softest part were $5. In fact the only thing that was actually free at this even was the plastic shot glasses of Mello Yello and the sunburns.
The crowd at this particular event has always been a strange conglomeration of people. There are attractive young females and bearded old men. People who wear 7 pair of earphones and still jump several stories when the first nitro car launches, and those who chuckle heartily at these weaklings wearing no ear protection at all while eating $27 barbecue ribs.
There are also the people who decide to spectate the event via the screen on their iPhone rather than just enjoying it. Here's a piece of information for these people: the resolution of the real world is much better than that of your phone screen, no matter how many S's are at the end of its name. I have to say I am partially guilty of this, however in my defense: A. I didn't even attempt to take a video or picture while the Top Fuel cars were running and B. I am putting my pictures to good use sharing them to a crowd that cares. This is better than the routine of most of my peers which consists of taking 400 photos of things they should be viewing with their own eyes, deleting most of them, and posting a selfie on Instagram with the caption "GR8 DAY @NHRA!!! #johnforce"
Speaking of taking pictures, here are some other oddities I felt inclined to photograph and share with you fine people.
A man was given the order to Armor All the tires on the transporter truck. So he did. Tread and all.
Paul Blart Mall Cop got an upgrade this year. Slotted rotors and everything.
This man from 'Swamp Fox Racing' somehow still has cans of oil, and he uses them. I commend you Mr. Swamp Fox.
Paging Richard Hammond. Too soon?
Overall the folks at Route 66 here in Joliet, Illinois put on a great show which is worth coming back to year after year. If you personally have never been to an NHRA event, do yourself a favor and get some tickets. The speed, the noise, the smell. All of it will have you hooked from the first green light on the Christmas Tree.
I was even able to make Illinois motto make sense: