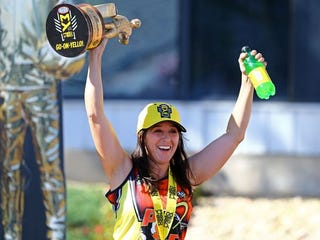 I was catching up on news this morning after being at a wedding all weekend and was happy to see this headline. Angelle Sampey now has 43 career victories, by far the most of any female and fairly high up (just outside the top 25) in all time wins in the NHRA all-time wins list.
http://www.usatoday.com/story/sports/m…

The story of her return is an interesting one as well. She left the sport after her sponsors pulled out. She tried to line up a Top Fuel or Funny Car ride but couldn't get one together. She walked away from the sport, had a child, and then got a call with a serious offer to get her back on a bike.
http://espn.go.com/espnw/news-com…

Not only is the NHRA by far the most diverse motorsport, but the people in it are fantastic. Shirly Muldowney, Angelle, the Force sisters, etc. are great ambassadors for the sport, and also badass racers when they get behind the wheel or on a bike.
Edit: This is Sampey's 42nd career win, not 43rd. Also, she had a .002 light in the final.