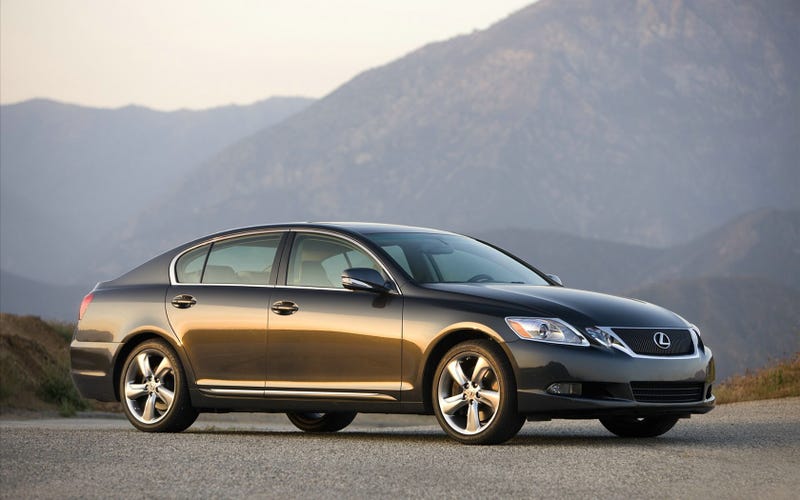 Last week, Doug DeMuro's article got all of us thinking about car recommendations we regretted to a great extent. I have one, but it wasn't exactly a recommendation.
All I said to the dad who was driving carpool that week was that the GS350 was a good car. That's it.
And the next week when I got picked up for carpool, there was a Quartz Shadow Metallic GS350 in my driveway. I couldn't believe that someone had taken my "recommendation."
Let me say that when I made the remark, an uncle was looking for executive sedans in the $50,000 range at the time and decided that a 16-year-old's recommendation mattered. So we drove everything in that category: Infiniti M45, Lexus ES350 and GS350, Acura TL and RL, Audi A6, Mercedes-Benz E350, BMW 530i. My recommendation was the BMW. And that's the one my uncle got.
Back to carpool. When I was casually mentioning the GS, my comment was based on the impression that the GS350 wasn't as bad as I thought it would be. (Though considering the prior GS, the third-gen GS was a major improvement.) We didn't really discuss my friend's dad car situation for the rest of the week. So I think the Lexus may have been in his mind all along, and my comment may have helped seal the deal.
What makes me sorrowful is that the man had a manual E39 528i, which he kept in really good condition. He also loved driving that manual in the morning, though I think he didn't miss it in traffic. And he traded it in for a Lexus GS350. Which is still an appliance for the most part, albeit a very good one.
While my dad still has his E39 530i and I've told him to consider nothing else (except maybe a Porsche), this man is driving the GS350. Maybe he's not facing the same repair bills as he is with the BMW (my dad has been putting $2,000/year into his for a while), but I know he's not enjoying the driving experience as he was in the 528i.
Since then, whenever I find myself recommending a car, I have to distinguish between good cars cars based on the person's past car history. I also make sure to recommend a list of cars that they can't go wrong with if I feel unsure of what they like, but I make sure to rank them on what I like. That way I can make sure I avoid vitriol down the line and those looks you get with a bad car recommendation.
I still cringe whenever I see that GS350 around the neighborhood.
Picture Credit: Lexus.