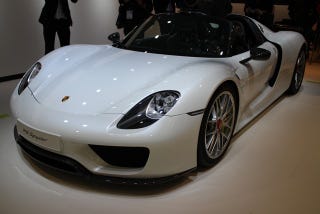 (It's a new year and soon Ill release a new list of affordable Ferrari track eaters, in the meanwhile enjoy this classic list of sports cars and widow makers which are still hard to replace, although there are some new contenders. Stay tuned for my updated list on Friday morning.)
So you've worked your fingers to the bone, saved up some scratch and sold a kidney. Now you finally have enough to splurge on a performance track car. It's a delicate line between reliability and performance but I've got you covered. Here are the top 5 you can buy based off overall value and Nurburgring Lap Times.
While you'd like to buy a new Porsche 918 you're poor as shit, but you want to save face on the track and keep it close with your more fortunate (rich) friends. Looking at reliability, affordability, performance and value I've compiled a list of the top cars to beat an exotic with. From 1 - 5 every car on this list can compete with the upper stratosphere of sports and ultra sports cars on a track, and are reliable enough to be used for more than the weekends. So on that mic drop lets proceed to the list.
5 - 2008 Mercedes-Benz CLK63 AMG Black Series Coupe
When it comes to making fast cars, the Germans know what they're doing. But who knew back in 2008 this car would demand the respect it does on the track today? This is one of the best deals on this list and regarding value, the black series is future collectible.
4 - 2008 Audi R8 4.2
Audi shocked the automotive world with their new super car coupe. The Audi R8 was the beginning of something most didn't see coming, Audi's return to grace. AWD, 420 HP and while a bit on the luxury side, its a capable track competitor. This particular model has depreciated nicely and while looks don't necessarily determine performance, sometimes to beat an exotic super car, it helps to look like one too. Bring an Audi tech and cash to get a good deal. I would rank this model higher but it has a rebuilt title. I've included a clean title model with lower miles.
3 - 2007 Porsche 911 GT3 Coupe
The pedigree of Porsche is such that no top list of track cars is complete without one. And this one is special. While a 911 GT3 should be considered a bit too rich for list I wouldn't hesitate on this one as long as I could go over it with a Porsche tech or get the seller to pay for a comprehensive inspection. This 415 HP Ferrari eater is truly an on and off the track beast. Its truly numbing, satisfying and even inspirational to know you can pass a v12 super car in a flat six Porsche.
2 - 2009 Nissan GT-R
The GTR was such a pleasant surprise when it hit the market and it put traditional super sports car makers on notice. It pushed car developers to step their game up and really paved the way for gems like the 458 down to BRZ/FRS. With the country coming out of a recession it was a car meant to let us play with seemingly out of reach exotic cars and hurt their driver's feelings. Just riding in one harkens back to the nostalgic Ferrari scene in Fast in the Furious with that rebuilt Toyota Supra. There's a twinge of sadness to that sweet nostalgia. This is definitely a car to be respected. (Keep it on the track boys)
1 - 2009 Dodge Viper ACR
2009 was a great year for sports cars. Dodge's answer to the Porsche 911 GT3 RS was a slick track car that could compete with top exotic super (and dare I say ultra?) sports cars on the weekends. With one of the quickest lap times, most readily available parts and dominating power, the 2009 Dodge Viper ACR takes top marks. This car with the ACR trim level can easily become a collectible in the future. And who can argue with these specs?
| | |
| --- | --- |
| Power (SAE net) | 600 bhp (450KW) @ 6100 rpm; torque, 560 lb.-ft. (760 N•m @ 5000 rpm) |
| Redline | 6,250 rpm |
A madman that's who. 'Merica
Honorable Mentions
2013 Subaru Impreza WRX STI Limited
2005 Mercedes-Benz SL65 AMG Black Series
Missing from this list are the obvious, Corvette and Camaro. While both cars latest iterations are an insane improvement and demonstrate American engineering can dominate racetracks worldwide, the cars needed to make this list are slightly too expensive. That's partly because they're new straight off a dealers lot if not ordered directly from the factory. I wanted to find collectible gems a wider audience could afford. So let a little depreciation set in. They'll be on here next year
But what do you say? I'm just an idiot who goes through used cars like underwear. What's on your list of top affordable Ferrari Eaters?