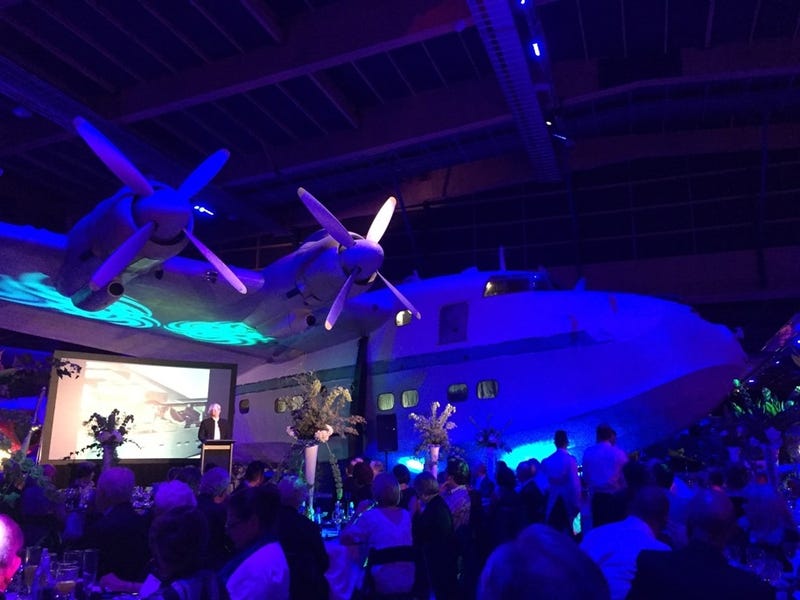 A couple of weeks back I went to a fundraiser at Auckland's transport museum MOTAT, to support the restoration of one of their star aviation exhibits, the last remaining Solent Mk4 flying boat.
MOTAT have a great PR team and manage to make all their events sound exciting and exotic. But every so often we lose our minds and decide to round up a bunch of kids and go along to something, and it never fails to disappoint - same old tragic MOTAT collection of poorly displayed junk. So we didn't have high hopes for this. Plus the dinner was to feature dishes from airline menus of the past, and we all know how great airline food is. But we haven't been to the aviation part of the museum in 20+ years, and they do have some cool planes. And restoring the Solent is a good cause. And anyway, it wasn't too expensive. So what the heck, along we went.
First big surprise: they now have a modern and well-presented aviation hall, rather than a pile of old planes decaying away outside. It's similar in feel to the Smithsonian hall at Dulles, if a heck of a lot smaller. Not everything's inside yet; the Sunderland is still sitting out in the rain. But it's a big improvement.

Not a surprise: wandering around with a drink under a bunch of blue-lit old warbirds is kinda cool:
Also kinda cool is the number of old human warhorses who've dragged themselves out to relive the memories and support the cause (that's RAF Mess Kit the old codger below's wearing, by the way).
Note: the photos are all the right way up in edit mode: frickin' Kinja!

For the main speaker they'd bought in Richard Foss, a culinary historian who literally wrote the book on food in flight. Which leads us to the next surprise, though with about 10 seconds thought it shouldn't have been: if you go back more than 40 years ago, before the advent of mass tourism, airline food was pretty darn high-end and adventurous stuff. It was served exclusively to rich folks who had proven, just by being on the plane, that they had a taste for the exotic, and the airlines went to town to excite them.
The coloured lighting didn't do the food any favours though (that's "Duck Vierlander", from 1970s Lufthansa first class menu):
The Solent itself was in service till the mid 60s, flying the Coral Route - the last major flying boat route in the world. TEAL (later to be Air New Zealand) flew the route from Auckland to Tahiti via a bunch of Polynesian islands. It remained viable for flying boats because the islands needed the air links but didn't have enough money (or often flat land) to build land-based runways.
As the evening was all about the plane, speakers included people who had history with it. One woman had been the child of the CAA engineer responsible for maintaining the Aututaki "runway" in the 60s (tough childhood) and spoke of going out in the boat with her Dad to drop battery-powered submersible lights into the lagoon to mark the "runway", then being allowed to stay up late to watch the night landings, with the lagoon, incoming plane, and touchdown roostertail lit from underwater - must have been quite a sight.
Another old bloke (pictured below) had actually flown the plane on the Coral Route. His story telling was pretty incoherent, but what the heck, he's 94 and his office used to be a freaking flying boat - he gets a pass, and a standing ovation.
The old bird herself is in pretty rough nick - she's been sitting on her hull outside rotting away for 30 odd years before the restoration started. They've made a good start, but there's still a long way to go.
As well as the usual aviation museum suspects (Tiger Moth, DC3, yadda, yadda), and a diverse selection of obscurities, MOTATs star exhibits are the big flying boats (Solent & Sunderland) and two-thirds of the WW2 "Merlin Holy Trinity" (Lanc and Mosquito, but no Spit).
The Lanc is interesting in that it's a postwar one - delivered just in time to miss the fun, it was sold on to the French and served in their Naval Air Arm till 1963 - way after I'd have believed Lancasters were still in service. It was restored in the 2000s, including being back-converted to a 1944 style configuration, complete with fake mission tallies etc. Which I'm not sure I approve of, but the restoration was done by the Bomber Command Association as a memorial to their fallen, so I'll just STFU, they can do what they like.
The Mosquito's interesting just because it's the Blackbird of its era. Take two fuck-off big engines, wrap the bare minimum of airplane around them, and don't bother with armament because no bastard's going to catch you anyway. I've always had a soft spot for them; my favourite model plane when I was a kid was my Mosquito. I was lucky enough to see TV959 in flight a couple of years ago, which just confirmed my opinion; they're amazing beasts.
All in all, a good night out, doubly so given my low expectations. I'm a lot more impressed with MOTAT than I expected, and glad to have contributed a few $ to restoring a piece of NZ history. Now I just have to hope they can get the Sunderland inside too, before it rots away completely!
(for those wondering what that is on the right: Transavia Airtruk)