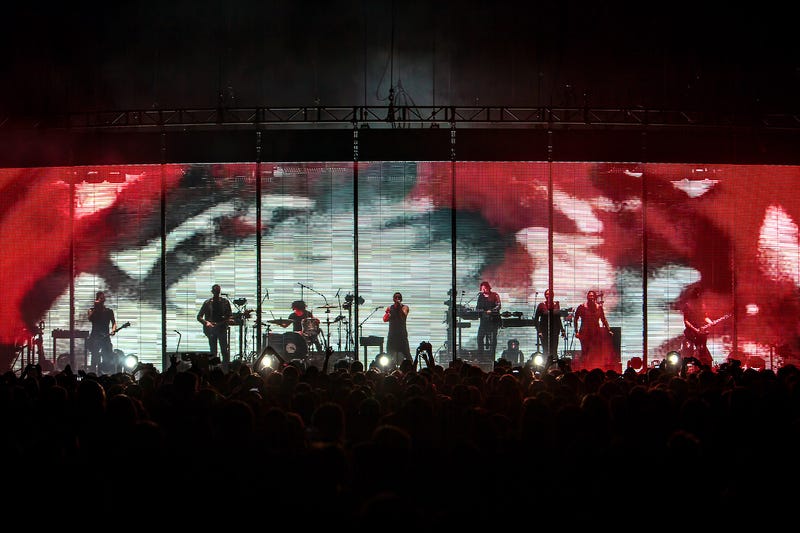 I had the opportunity to see Nine Inch Nails this last Saturday at US Airways Arena in downtown Phoenix. I've been looking forward to seeing this show since Hesitation Marks was announced with the fact that there would be a tour to accompany the album. In the intervening months I have fallen hard for Hesitation Marks and was spoiled by the amazing number of HD quality streams from the festival leg of the tour. I went into this with a lot of expectations, and having seen Nine Inch Nails several times over the last twenty years, every show I have seen has been compared to my first experience, when I saw them on the Downward Spiral Warm Up Tour and waited 8 hours to stand front and center.
Having watched nearly every available stream of all of the festivals at the end of the summer, I knew that the current iteration of the band was very capable, but given that the audience was a wider one, the sets for those shows were by and large greatest hits type sets. I felt no guilt or spoiler effect watching the festival shows from the comfort of my couch in HD. It had been announced that the lighting and effects for the festivals, as well as the setlists, would be different from the arena tour.
Then I saw a teaser of the Tension tour with backup singers performing All Time Low, and my hopes were raised even higher. At this point I went into media shutdown mode, only paying attention to the official channels (well, the official channels and theninhotline, but really they don't count). I hadn't watched the setlists, I hadn't paid attention to Reflecting In The Chrome (that was hard) and I only skimmed the Echoing the Sound boards. And finally the day arrived…
Explosions In The Sky opened, and were quite impressive for what they are, which is a bunch of music/guitar geeks who like really loud music, but don't believe in vocals. For the shoegaze fanatic in me, this was a blissful wall of noise. For my 15 year old son, this was an exercise in what really good music actually looks like. And for the drunk adults around us, this was a chance for them to yell themselves hoarse while screaming over the aforementioned Wall Of Noise. One sentence summary: EITS were great, if you're into that sort of thing.

After the stage changeover, Nine Inch Nails arrived with a cloud of smoke, an awesome synth line, drums, and Copy of A started in earnest and it was readily apparent that Trent and Co were in sync. What wasn't as clear at that point was that this was an indicator of the show to come. They blasted through 1,000,000, Terrible Lie (holy fuck, incredibly solid performance with simple yet effective lighting) and the Pigs/Piggy suite.

And then the entire mood changed, Lisa Fischer and Sharlotte Gibson joined the lineup on stage, a mostly clear lighting element/screen descended in front of the stage and everything got funky. Literally. All Time Low came in and just, Trent changed posture, Pino Palladino really showed his bass chops, and everything slipped from the past to the present. Trent seemed to really enjoy himself, dancing, grooving, and the backup singers really brought an extra dimension. And the lighting, oh my god, the lighting, there was a faux aurora borealis effect both in front of, and behind the band.

At that point the lighting / effects got real. I can't adequately explain the amazing effects that accompanied Disappointed. There was an amazing shifting symbol/column effect. And anyone who had floor tickets may have missed out on the outrageous 3D effect of this shifting/rotating box which distorted around the band as the song wound down. Mindblowing would be an adequate descriptor. This was simply awe inspiring. Seriously, I don't know if there is youtube footage of this, but if there is, find it.
From this point, the show briefly plateaued, going through more of Hesitation Marks and featuring the myraid lighting elements which complimented Came Back Haunted, Find My Way and Various Methods of Escape.

And then Sanctified happened. I've never seen Sanctified live before, and while I saw the versions performed at Lollapalooza and the Made in America festivals through the streams, seeing it live was like a revival. It was rhythmic, it was funky, it was dirty nasty grooves with a beautiful rolling bassline and synthline counterpoint that makes me want to beg for a studio recording with this lineup and arrangement.

And then from there, a point which simply had to be the high point of the show, they transitioned into The Frail… and then segued directly into The Wretched. From there they played through In Two (which btw, the chorus and bridge make for excellent live moments), Survivalism and Running (more amazing lighting), and then there was a calm moment as the stage went dark, the clear notes of A Warm Place came through and spotlights showcased a nearly vacant stage, Lisa and Sharlotte had gone backstage and then… like a slow moving train, Somewhat Damaged started, and I have waited for this moment since The Fragile released in '99. Individual spotlights shown on each bandmember lighting them against a black dark background.

The band then tore through, in perfect form, Wish, The Hand That Feeds and Head Like a Hole. Each one transforming the crowd to a more energetic level, and then… stop. It was one of those moments where you know they have to come back out, to perform more, but if they don't, you already got more than you paid for.

But they did come back out, and they started the encore with All The Love In The World, which my memory was screaming (they never played this, ever!) which was amazing. With fabulous lighting behind the band and a wonderful live arrangement. They then moved on to Even Deeper which was just icing on the cake, and then moved on to While I'm Still Here, Black Noise and finished with Hurt, which as always was haunting.
What is amazing is how much new material was played, NIN are embracing the future and constantly acknowledging their past. This was a wonderful trip and reminded me of old memories and solidified many new ones.
This show was a new high water mark for me, for NIN and honestly, for stadium concert experiences. I will see them again later this week, in a completely different environment, at The Joint, in Las Vegas, where they apparently are unable to fit the full lighting rig, so I don't know what the atmosphere and experience will be like, but I am incredibly thankful that I was able to see them in this capacity.
A+, a solid 9.9/10 performance.
(All non-animated images taken from Rob Sheridan's amazing photos on the Nine Inch Nails Tumblr, all animated photos are mine).